Arrow Interview: Jessica De Gouw Teases Introduction of the Huntress

Carla Day at .
On tonight's "
Muse of Fire
," Oliver Queen will face off against the Bertinelli crime family, lead by mob boss Frank Bertinelli. And for the first time, he will have another vigilante in his corner. Yes, it's time to meet the Huntress. Will they work together? Or get in each other's way?
On location at the Bertinelli mansion set in Vancouver (trip provided by Warner Bros. TV), I spoke with Jessica De Gouw about her dual role of Helena Bertinelli and the Huntress. Read on for excerpts from our interview...
------------------------------------
How is Helena introduced on the show?
With a punch. She comes in strong. She's a force of nature. And not only the Huntress, but Helena is pretty sassy in her own right.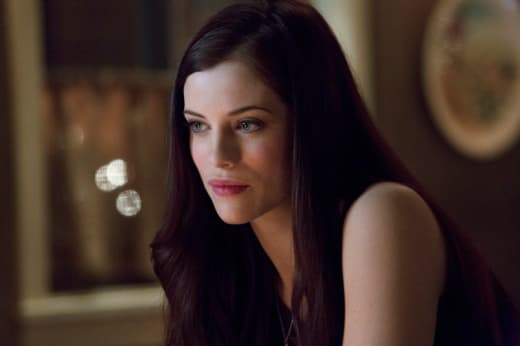 What has surprised you so far about the role?
It's challenging for me because I play Helena and the Huntress and I have to be able to hold my own regarding the duality of the role. It's challenging. And I have to be able to kick butt and all of that. I'm quite feminine in my normal every day life, so the fighting and all of that is new and interesting for me. But it's good ... I'm really enjoying it.  
 
What is the dynamic between Oliver and Helena?
It's very interesting because they come from such different backgrounds and circumstances, but there's something very similar about them. And I think that's where the attraction comes from. They find something they can relate to and appreciate. 
Arrow has a mission to live by his dad's last words and find his retribution? How is the relationship with your father different from that?
Well, I think Helena comes from a very difficult upbringing. They're her family but I think she differs from them in her ideals and with what she thinks is right. So it kind of creates a conflict for her and while Oliver is trying to do what his father wants, Helena is the opposite.   
 
Oliver has a list and defined mission to complete. What drives the Huntress?
It's born out of the relationship with her family and her father. And rectifying the wrongs that were done there. So that's where it all comes from. She doesn't have a list like he does. 
We've seen that Oliver doesn't have a problem killing the bad guys.  What's the Huntress' take on murder?
She's pretty ruthless. She's certainly not as controlled as she possibly could be. I mean, she's a vigilante of sorts and in her own head she justifies the choices she makes. If you're going to question everything you do, then why do it in the first place? She can be pretty full-on, but in her head it's all justified.
Carla Day is a staff writer for TV Fanatic. Follow her on Twitter and on Google+.