90210 Review: The Hollywood Bowl and The Hot Smart Chick
by Leigh Raines at .
Dixon's got "99 Problems" but being engaged to a cheater ain't one! 
Sorry, I just couldn't resist a Jay Z introduction with an episode title like that. Yes, it was the 99th episode of 90210 and it laid a lot of groundwork for next week's milestone 100th installment. The outing also included a bevy of guest stars, including Amber Stevens, Natalie Morales and a performance by Ne-Yo.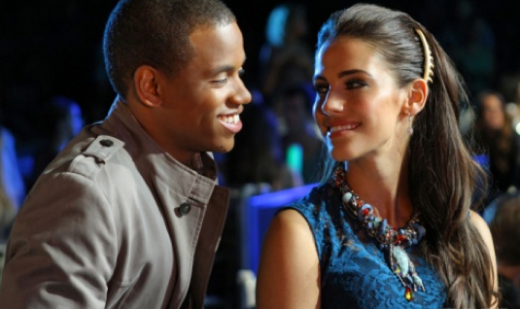 There was a lot of deception going on this week. For starters, this whole Ade and Dixon relationship. Do you think Ade should've been honest? Doesn't Dixon deserve to know that he's still living with a cheater, especially when he's about to make their relationship into a business arrangement as well? Truly, I think Adrianna needs to come clean simply because it's the right thing to do. 

Hey, guess what, guys?! Neil Lane is doing a holiday collaboration with Kay Jewelers! I mean, 90210 has a billion guest stars and is fairly popular, did they need the beyond obvious holiday sponsorship? That ad was just too much! I'm sorry, but Neil Lane designed the rings of Jessica Simpson, Nicole Richie and Kate Beckinsale, he isn't gonna pop by your friend's Beverly Hills mansion to sell you a pair of earrings from his Kay collection. They're pretty... but no.

Also, I'm supposed to believe that Liam would remember important information from a fertility specialist, but he wouldn't bother to call the studio to make sure his new "bodyguard" was actually not just some crazy fan? C'mon Liam, you should know better by now. You can be hot and smart, just ask Max's new partner Bryce! Amber Stevens from my beloved Greek, (I miss that show) began her stint as a guest star and Max's new business partner. Naomi better get her jealousy in check.

I just want to say that Annalynne McCord has been sexy since her arrival on our TV screens in Nip/Tuck. The show doesn't need to try so hard to make her alluring by prancing her around in lingerie and leather trench coats. She already exudes that appeal and is hilarious and vivacious.

Lest you think I am only here to criticize, let me just saw bravo to the writers for giving Navid a week off. Nobody wants to hang out with him right now, not even the audience! As for my favorite storyline? Riley and Annie really sold it to me in this episode. My favorite scene took place by the pool when Riley asked what she would do to any guy who stood her up and she landed that slap! 

Even better was when Riley pulled her into the pool. Hey sexy time! There's nothing hotter than a pool hook up. You all remember the Dylan and Kelly scene from the original 90210 right? If not go YouTube it.

I'm digging Riley and Annie if they can keep their fighting in check. I know with them it seems like foreplay, so hopefully it won't take over the actually enjoyable times between the two.

What did everyone think of the episode? What'd you think of Adrianna's performance? Is Liam's bodyguard even a bodyguard at all? Are you excited for the 100th episode next week? Hit the comments! 

Leigh Raines is a TV Fanatic Staff Writer. Follow her on Twitter.

Tags: 90210, Reviews
From Around the Web