For a episode that started with a lot of promise, "You Know What the Lollipop Is For" went downhill faster than guest star Miley Cyrus' movie career.
The half hour seemed based around this 19-year old and, after awhile, she was simply annoying with her nasal voice, accent and incessant chatter. I may never look at the state of Mississippi the same ever again.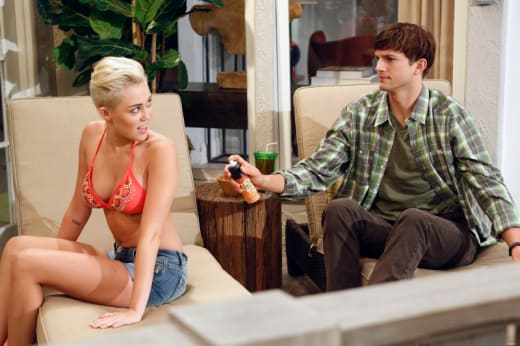 Missy was getting all sweet on Walden, but she was warming him up for her mom, which in turn, made him feel old. And it didn't help that his memory was going or that he goes to sleep so early these days.
But, hey, surprise! Missy and Jake hooked up, albeit temporary, as she already has a boyfriend, a doctor who repairs glass. Jake might have had dreams crushed, but he's maturing as a result. Heartbreak can do that do a young man.
There wasn't much else to this installment. Visit our Two and a Half Men quotes section for a couple funny one-liners and let's all be glad Cyrus isn't a series regular.