The Walking Dead Exclusive: Lauren Cohan on Loving Prison, Darkness Ahead and More!

Sean McKenna at .
The Walking Dead Season 3 has hit the ground running.
After a record breaking premiere, it looks like there's no stopping this juggernaut of a show.
I recently spoke to Lauren Cohan (Maggie Greene) to get the scoop on what's in store for the new season and she excitedly talked about the darker tonal shift, Maggie and Glenn's relationship and how she thinks the "zombie action is just great."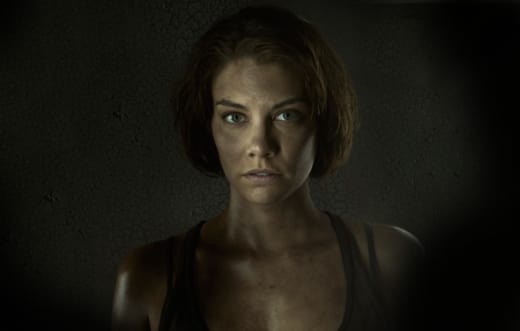 It's been pretty obvious from the new prison setting, the time jump and the general attitude of the characters that season three is full of change - and Cohan acknowledges how we get to see "no nonsense. We get to see this group stripped down to necessities. There is a complete shifting of priorities.
"We've seen the group on this lush farm with all this space and security, and then now, the Greene family [especially] knows what the world is really like."
Added the actress: "They've been on the road for months and they definitely have a new perspective and a much tougher spirit. I think we have a team of warriors, but it doesn't change the fact that sometimes they're doubtful and they might not want to do it, but they need to find a place to rest their heads."
That acceptance of the harsher reality also means that Maggie is no longer just the farm girl:
"I think in last season Maggie was ready to be involved in something and she didn't quite know what her challenge was going to be. So, now, by the time we get to season three, the way that she can contribute and fight is very apparent, but also that Maggie has always been a woman of strong instinct. Now she's acting upon that."
But that doesn't mean that her relationship with Glenn has hardened. In fact, they continue to grow together.
"We definitely see a very close couple. I just love that relationship. You get to see this young couple go through the trials and tribulations a young couple would. They learn to communicate, learn to be vulnerable in front of each other, and especially for Glenn, this guy who's kind of geeky. You have this really real thing [that fans get to see]."
One of Cohan's favorite episodes involves a more intimate scene between the couple, as she teases: "It is one of the sweetest moments. We really need Maggie and Glenn for those hopeful moments, but you're gonna have to earn it because it doesn't happen early in the season."
Of course, while the new setting for the characters is dark and grim, the star is overjoyed to be at the prison because it's "dingy and uncomfortable and amazing."
"I like it more actually than last year. I loved the farm but [the prison is] so kind of just bare bones and your prison bunk is like heavenly. I like having a set and not being in the blazing sun. We have a really cool set.
She added with a laugh: "I don't know. I'm weird. I like the prison."
And truly the prison makes season three feel like a brand new show, but Cohan also promised that the introduction of a new community called Woodbury was going to add more great drama and excitement to the season: "Wait until you see Woodbury. The juxtaposition between us and them will be eerily illuminating and great to watch… we have a whole new group of characters."
Yet, when it comes down to it, the actress admitted that getting to kill the walkers is a lot of fun.
"This season we got to go between character and action a lot, so we relished both. Episode one ["Seed"] was knackering. We were so beat by the end. We did a longer shoot for [it] because there was so much choreography and we respected the prep we needed to do in, you know, practice killing people."
And did you know it only takes a short time to get her dirty and bloody for work?
The actress dished on getting her grimy makeup done: "We joke about that because there's just no point in showering at night. We come in clean and then [there's] twenty minutes of dirtying. Turns out Burt's Bees insect repellent is a great fake sweat."
And even with the possibility of Maggie meeting her demise at some point in the series, Cohan was enthusiastic about the entire experience of working on the show: "This situation is supposed to be tense and we're supposed to fall in love with people and watch them die, I think. But whatever happens is okay with me. I'm not gonna lie, I don't want to leave the show because I love this group and I love doing it.
"It's the best job ever."
Watch Lauren Cohan and the rest of the survivors hack their way to safety with an all new episode of The Walking Dead at 9 p.m. on AMC.
Sean McKenna was a TV Fanatic Staff Writer. He retired in May of 2017. Follow him on Twitter.