The Good Wife featured a public relations scare this week, while Alicia also faced difficulties at work. And then there was Kalinda. She continued to hang out with her creepy and dangerous husband.
In "Two Girls, One Code," Will and Alicia's clients created a voice recognition software that went out of business when their search engine ranking went from page one to page 28 of results. The influence of search engines is huge on businesses, so I found this case to be intriguing.
I did find it difficult to believe that a search engine company would penalize a business for not buying advertising, but I guess anything's possible. The real reason for the search downgrade made much more sense. It was in Chumhub's interest since they bought the competing voice recognition company. 
Last Sunday, I complained about the lack of pre-trial research and it struck here again. Shouldn't Will have known about the competitor's ownership before they went to court? I know, it makes for a better mystery and case, but it's a tad annoying. Still, I loved the way the case played out because it was unexpected.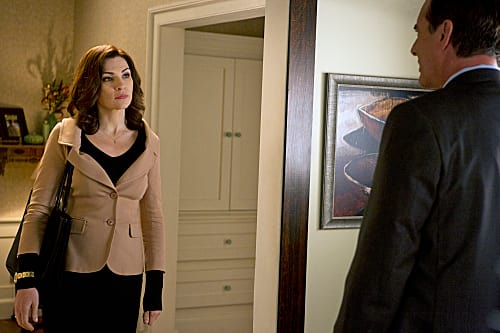 The sensitive nature of the search engine's algorithm and the demand to keep it private was a compelling argument, but it was what the case hinged upon. Just because something is a trade secret doesn't mean you should be able to hide behind it.
In the end it didn't matter. The girls were suckered into dropping the case with jobs running the competitor that put them out of business. They could have had millions to do whatever they wanted; instead they got gigs and the law firm got screwed out of their cut.
Wasn't that unethical? Representatives of Chumhub had to have talked to the Lockhart Gardner clients without their lawyers present, right? Since it is a civil suit, it may not be above board, but it's not illegal. The law firm will have to find another way to save itself.
While the case was going on, there were a few personal problems taking place as well. A reporter was working on a juicy story about infidelity in Alicia and Peter's marriage. Alicia really has been through enough. It wasn't her fault that Peter cheated on her and she left him. I was glad that it wasn't a story about Alicia and Will. If she wanted to move on with him, there was nothing wrong with that. And for Peter's campaign to bring her more pain is unacceptable. Thankfully, that didn't happen.
Peter, though, is going to be an easy target for scandal. If he makes one wrong move or even the appearance of impropriety, he is going to go down. Given his past, people will believe it, so he was lucky to have Eli on his side to search out the truth and put a kibosh on the story.
This time Peter wasn't lying and Alicia rewarded him with a kiss. Ugh! I don't know why it bothers me so much, but I don't want Alicia to get sucked back in by Peter. Even though I do believe people can change to a certain extent, Alicia would be taking a huge step backwards.
If Peter wins the election, will Alicia give up her job and move to Springfield with him? Unless of course, he governs from Chicago, but that didn't work out well for the last Governor that tried it. In the long run, Alicia needs to stay separated, or actually divorce him, to keep the life she has grown to love.
As complicated as Alicia and Peter's marriage may be, it doesn't even come close to that of Kalinda and Nick. Whoa! What the heck was up with that eggs, frying pan, knife, and bigger knife situation? They are a crazy ass couple and I've had about enough of it. It's been nice to get some back story on Kalinda, but why doesn't she cut him off? Or get a restraining order? 
The relationship with Nick doesn't coincide with what we know about her. She's a kick ass, strong woman who stands up for herself. It's difficult to understand why she is acting this way. I loved the return of Lana, but again, Kalinda was using her.
Did Kalinda want Nick to find out and go after Lana? As a Federal Agent, he'd be right back in prison again. Kalinda has manipulated the situation for her benefit, which sounds like the Kalinda we know.  But at what cost? Lana is innocent is all of this. It would be one thing if the couple set a trap for Nick, but Lana doesn't know what's going on. She could be seriously hurt by Nick if she doesn't expect him. I'm disappointed in Kalinda this season.
I hold out hope that this storyline will redeem itself, but it needs to be very soon. When this is all over, I expect Kalinda will come out even stronger than before, but it's a difficult road to get there.
Are you happy to see Alicia and Peter getting closer again? Or should Alicia continue to keep her distance from her husband? Are you tired of Kalinda and Nick's destructive relationship?
Carla Day is a staff writer for TV Fanatic. Follow her on Twitter and on Google+.