My apologies if my review title is reminding anyone else of the Laguna Beach theme song, but it seemed like the perfect theme for this week's Switched at Birth! 
"The Declaration of Independence" was all about revealing the truth.
Whether it was Bay deciding to stop lying to her parents or Daphne confessing her feelings to Chef, everyone had something to come clean about.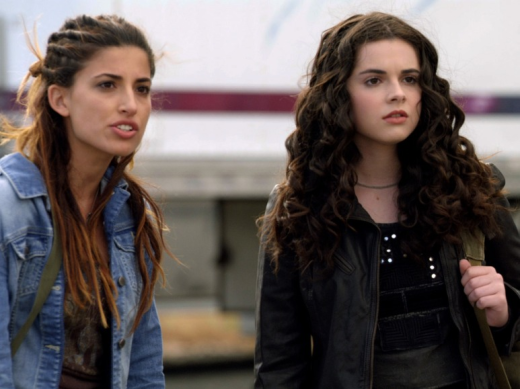 I was wondering when Daphne was going to find out about Chef and Melody's hook up. Is it me or is Bay the worst secret keeper on this show? Maybe Emmett knew that when he decided to confide in her about his mom and Chef hooking up. It doesn't matter if it's "just a simple crush," you should always just tell the truth. You can never know how serious someone else's feelings are.

Daphne obviously liked Chef a lot more than she expressed. She was giving Melody that cold death stare. Let's be real, Chef isn't age appropriate for either of them, least of all Daphne! At least him hooking up with Melody is legal! It sucks to find out that somebody else got with your crush, but to find out it was your best friend's parent must be beyond weird. 

What would you have done in Emmett's situation? Or Daphne's? I must say that I'm pissed at Daphne for using Travis like that and leading him on. I feel really bad for Travis. it must be really hard to have nobody at home to talk to. Then the girl he likes just ditches him when they make plans. I'm glad John is taking him under his wing. Toby is totally adrift this season with his best friend gone and still hurt from his ex girlfriend. He needs to figure things out for himself and reboot.

I guess this Bay and street art story is here to stay. Is Bay being stupid or true to herself? Maybe a mix or somewhere in between? Fighting with that Swak kid was a bad and dangerous idea. Bay should also stop giving Emmett hope. She asks to borrow his super expensive camera and then is like "oh by the way, this means nothing, I'm still pissed as hell." I'm starting to feel bad for Emmett, even though what he did was really wrong. 

I also pity Regina feeling like she isn't communicating with Daphne the way she used to, and not just due to her wrist. She lashed out at Katherine but they ended up bonding and relating to each other.

What did you think about all the revelations this week? Hit the comments and don't forget to check out the Switched at Birth quotes section! 

Leigh Raines is a TV Fanatic Staff Writer. Follow her on Twitter.

Tags: Switched at Birth, Reviews