I should view Scandal before attempting to sleep. Inevitably, what happens is this:
I watch and then spend the next hour picking my jaw up off the floor and trying to quiet my overactive mind, which is running laps trying to answer all the questions and tie up all the loose ends and make sense of all of the plot twists and revelations packed into each hour.
Scandal excites me in a way that no show has done in a long time.
As an episode that had Olivia's case parallel her personal life, "The Other Woman" gave us insight into the world of everyone's favorite fixer.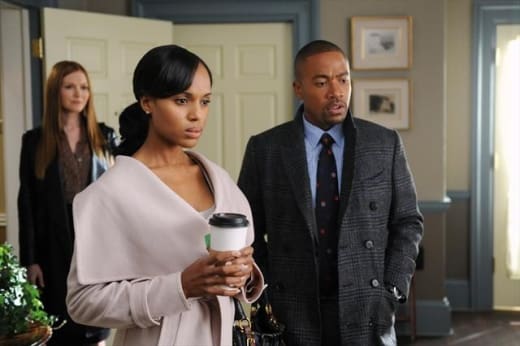 One of the great things about
Scandal
is the way we have to piece together the character's stories, and integral to Olivia's story is the President. Their relationship is far from over, as evidenced by their late-night phone calls and his willingness to keep people working long after 5 o'clock just so he can talk to the woman he really loves. She's torn. She wants to talk to him, but she knows she shouldn't. And tonight she faced, once again, the most sobering part of it all.
She's the mistress to the President of the United States.
She wants what the pastor's mistress wanted: Christmas, dinners, silly fights. She wants the every day. But she can't have those things. And she knows that if word of her affair ever gets out, it will be the end of Fitzgerald Grant, just like word of the pastor's mistress would undo all of the good he'd done. Watching Olivia push while Fitz pulls her back in, and then vice versa, it's painful. I don't root for infidelity, but I find myself rooting for these two nearly every week.
Mellie, however, was spectacular in laying on the guilt, knowing that Olivia was listening just beyond the door. She loves her husband, even if he's not in love with her and she'll see their marriage through until the end, whenever that may be and no matter how cruel he can be. And people, he can be cruel. Tonight's dismissive speech was a punch to the gut. When she spoke of their first apartment and asked for his forgiveness, I found myself rooting for a reconciliation between her and Fitz.
I can't decide which of these is the couple to pull for, but I thought the parallels between Olivia's life and the firm's case were nicely done tonight.
Other parts of the episode worth discussing:
James and Cyrus are a nice, semi-light balance to the heaviness of this drama. Sure, Cyrus is an evil genius and James probably doesn't know it. But their banter comes at just the right moment to break the tension. James wants a baby. Cyrus already has one: Fitz. Their interactions were a nice touch tonight.
Huck is descending into madness. Olivia asked him to take find Amanda Tanner, at any cost, and in doing so, she unleashed a beast. That was made clear tonight when he misunderstood her wishes for the pastor and attended Alcoholics Anonymous meetings in attempt to stay "sober." He's slipping and when he does, it will be Olivia's fault. Huck will do anything for her, that much we know, and it seems Olivia knows it, too.
Lindsay Dwyer is no more. After going home to visit her father, Quinn decides to leave the past where it is. Which is Oakland, if you were wondering. So, now I don't get to call her Quinnsay. She still wants to know how Olivia helped her and Olivia says it's best if she doesn't know yet. Eventually she'll find out that she's at the center of something huge, and when she does, I can't wait to see how she reacts.
Speaking of Quinn, we know who Olivia called: Judge Verna Thornton, Supreme Court Justice, who thinks they should've let Quinn take the fall for the bombing just to protect their secret. And David Rosen is on the heels of figuring everything out after being forced to take a leave of absence. That little corner in his apartment is quite the shrine to the secret world of Olivia Pope. The question is how long will it be before he cracks this case?
What did you think of "The Other Woman?"
Be sure to check out the Scandal quotes to read all of the fast talking from tonight's episode and then sound off in the comments.
Miranda Wicker is a Staff Writer for TV Fanatic. Follow her on Twitter.