Once Upon a Time is like a drug. It has the magic you just can't quit. Even though Emma and Snow, my two favorite characters, didn't have a scene until the very end, somehow I barely noticed. 
"We Are Both" still managed to keep me riveted.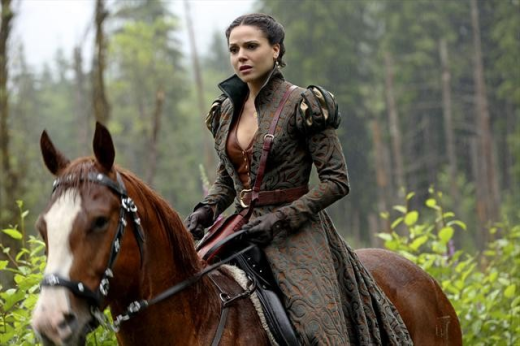 Grumpy and the dwarves were once again the Royal Guard and in their quest to protect their prince, they did the unthinkable: They sent one of their own over the Storybrooke border. Unfortunately, Snotty Sneezy, won't remember the results because all fairy tale memories are erased once on steps over the line.
Wasn't it great to see Charming finally be... Charming. I know David exists within Charming, but I'd be happier if that part of him remained hidden for the rest of the series. The man just looks so much better with a sword in his hands.
With Rumple's help, Charming managed to track down Jefferson. They don't call him the Mad Hatter for nothing. The man really isn't quite right. You'd think he might be happy now that he at least has a chance with his daughter, but that doesn't seem to be the case.
Speaking of Rumple, why was he so angry about not being able to leave Storybrooke? I'm guessing that perhaps he had plans to leave and find his son. And Belle was notably absent this week, which is a shame since overall Rumple seemed like he was trying to be good.
I never would have guessed that Rumplestiltskin's relationship with the Queen went back that far. It's actually kind of heartbreaking to watch the transformation of Regina from an innocent young girl into the Evil Queen we know today.
When she shoved her mother through that looking glass, it was just one more step towards becoming her. The Regina we now know is so very sad that it's hard to hate her. I give Lana Parrilla a huge amount of credit for making me feel empathy towards such an evil character.
Does anyone believe that Regina can be redeemed? She obviously wasn't always evil but now magic is her drug. She couldn't burn that book. She simply set it aside for a while.
The entire town of Storybrooke was entertaining to watch while it struggled to come to grips with this new reality. Red has really taken charge as she pushes Charming to be the leader, even if he isn't always sure of himself. As he explained to Red in this Once Upon a Time quote…
I did the fighting. Snow did the talking. | permalink
Elsewhere, Grandma's got her crossbow and she's not afraid to use it. Archie's trying to counsel everyone and Grumpy and the dwarves are off to find some pixie dust for their fallen comrade.

All of that was enough to make me forget about Snow and Emma…almost. As if being dragged across a strange land and thrown into a pit weren't bad enough, now they have to deal with the Evil Queen's mommy. I think they're in trouble.

All of it just solidifies that season two of Once Upon a Time is more thrilling, compelling and enjoyable than ever.

C. Orlando is a TV Fanatic Staff Writer. Follow her on Twitter.

Tags: Once Upon a Time, Reviews
Want more Once Upon a Time?
Sign up for our daily newsletter and receive the latest tv news delivered to your inbox for free!
More From TV Fanatic

Jane and Maura get drawn into the world of rare books and coded confessions when a book seller hiding a secret is murdered on Rizzoli & Isles.

On Perception, Daniel and Kate investigate an art heist. Also, Daniel must make a decision about his love life.

Things on Pretty Little Liars looked pretty darn bleak this week as Hanna's friends started to get sick of her but Zack couldn't get enough. Read the review for more insight into the latest installment!

Evan, Paige and Bob confront Russel about his rug theft, while Divya and Jeremiah treat a woman desiring to be a mom. But were those all the surprises the Hamptons had to offer? Read our review of "I Didn't See That Coming" now!
---