We spent time with Honest Abe on New Girl this week. As well as honest Jess and honest Nick and honest Winston, as "Halloween" forced every roommate to confront his or her biggest fear.
No, not low thread count towels. Relationships and feelings. Those things can be scary!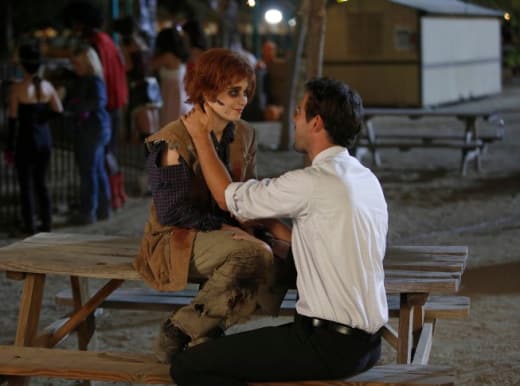 Jess, for example, realized that she does have actual feelings for Sam beyond their adventures in No Pants City. After all, the guy is a doctor ("He cares about people for a living!")
But the giant scars painted on her haunted house-based face will heal a lot faster than the ones now covering her heart after she opened up to the pediatrician and was quickly dismissed. Are we being slowly set up here for Jess and Nick?
The latter also faced the frightening prospect of actually confronting his feelings, only this time they were in the negative sense. It takes a lot to tell a woman you don't like her, but painful lip biting will definitely do it.
With these two single, many in the New Girl universe will be pushing for the inevitable Nick and Jess hookup to take place in the very near future. But why mess with a good thing, which the show clearly has going for it now? Remember the lesson Nick learned tonight: it's easy to be let down by what you think you always wanted.
Elsewhere, I actually find puns incredibly sexy, so I'd totally date someone who reigned cats and dogs for Halloween. But I don't blame Winston for getting out of that sex-less relationship. Without intercourse, after all, a girlfriend is just a friend you buy meals for. Truer words have never been spoken by Schmidt.
Especially when it comes to Abraham Lincoln. I haven't thought about that ex-President once today!
I have a feeling many female viewers, however, will be thinking a whole lot about Schmidt's Plan B costume. The guy's thighs are like fleshy tree trunks, even Robbie couldn't help but be impressed. And even he must know that Cece and Schmidt are destined to be together again.
Overall, another terrific episode that balanced heart and humor. Visit our New Girl quotes section for a few of the evening's best gems and let's all try to think of what the heck Schmidt dresses as for Purim.
Matt Richenthal is the Editor in Chief of TV Fanatic. Follow him on Twitter and on Google+.