A new crowd-sourced side of Naval intelligence was explored on NCIS: Los Angeles when a diner blew up with four men inside.
The cold war days of recruiting cryptographers with a difficult puzzle in the newspaper was updated to the 21st century through a computer game called Wide Awake. It's a rather cool idea, except for the whole getting killed thing.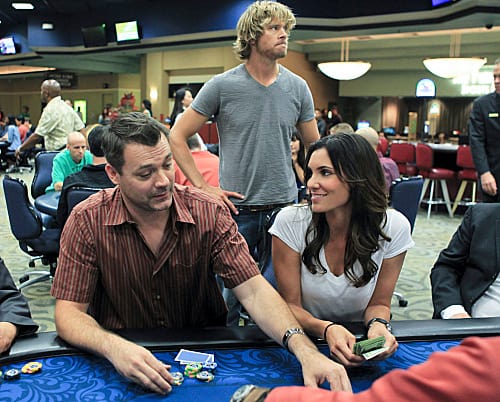 It was pretty obvious from the beginning that Astrid, not Hoffman, was the game's missing elite player. She definitely didn't make it easy for NCIS to find her. The most informative part of her character wasn't about her at all; it was about Kensi.
The back stories of the NCIS boathouse crew are given out slowly and only in tiny bits. In "The Fifth Man," we found out that Kensi ran away after her father's death and lived on the streets for a year. That explained why Kensi was able to get through to Astrid more than others. She understood her in a way that nobody else could.
While Kensi and Deeks have the banter down between them, they also clearly care for each other. The kindness that Deeks showed Kensi proved that. I've written it before and I'll write it again: I'm not a member of Team Densi. They are professional partners and I don't want that to change.
The writers were playing to those fans tonight. Not once, but twice their relationship was brought up. As the team walked through the casino, one of the women at a table mentioned that they made a cute couple . And then the big one ... Astrid asked Kensi if she loved Deeks, after which Kensi conveniently changed the subject.
I found the case compelling and it held my attention. I didn't have a clue that Mathers was the murderer until Toretto outed him, but it made sense. Mathers' career was on the line and he did what he thought was necessary to save his project. He probably thought the ends justified the means. With a fixed program, he could save many more lives in the future.
Odds and Ends
Bad sushi excuse! Hilarious that Sam and Callen claimed they invented that excuse. 
Good question -- why would the Office of Naval Intelligence have a Twitter account?
I could go for a John Hughes marathon. 80s movies rock!
Kensi's reaction to the girl on the train tracks was enough to give away that she felt a connection to her.
I'm not exactly sure what the purpose the car chase served, but it was a decent action scene. The victim had to be decapitated, right?
Learned something new: Art of Civilized Bushwhack
I knew Deeks had a softer side, but Phantom of the Opera? That was a shocker.
The roles of the women at the poker table were played by the cast's real mothers.
Carla Day is a staff writer for TV Fanatic. Follow her on Twitter and on Google+.