Nashville Series Premiere Review: Welcome to Music City
by Dan Forcella at .
With a quickly established set of complicated characters, engaging original music built within this authentic setting and endless possibilities for intriguing stories down the road, Nashville is the best new show of 2012.
No matter what stories you tell, if you don't have truly interesting characters, nobody is going to care. Fortunately, Nashville has created a number of them in just the one hour of its pilot.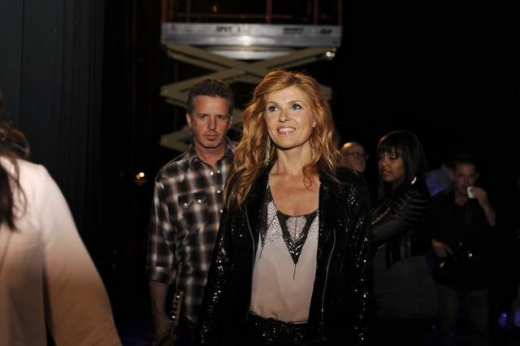 Between Charles Esten as songwriting legend Deacon Claybourne, Eric Close as mayoral candidate Teddy Conrad and Clare Bowen as poet-turned-songstress Scarlett O'Connor, the supporting cast will be fun to watch develop as the first season moves forward.

Having said that, it's still the two leading ladies who are going to carry much of the burden of the series. Thankfully, both Connie Britton and Hayden Panettiere seem up to the challenge as fading country star Rayna Jaymes and up-and-comer Juliette Barnes, respectively.

It would be easy to pigeonhole both characters into their own well-known archetypes, but both Rayna and Juliette have already been portrayed with such complexities that it's hard not to see them as real human beings; human beings we would love to see more of.

Britton, who impressed so many for five years as Tami Taylor on Friday Night Lights, may have actually found a role similarly sincere in Jaymes. Rayna is a famous country star, sure, but that doesn't make life simple. Between her controlling father, quasi-doubts about her marriage and the realization that her star isn't so bright anymore, it's going to be exciting to watch her deal with the ups and downs of life in the near future.

Barnes, meanwhile, seems to be as messed up as you might assume a world famous young girl with a junky for a mother might be. Panettiere plays the role with attitude, but it's clear that the girl is masking a lot of problems. Whether it be her need to drown her sorrows in sex, or her untamed desire to be the best, Juliette is a new twist on the instant star character we've seen time and time again.

Some have compared Rayna to Reba, and Juliette to Taylor Swift, but those are extremely lazy comparisons. I get that many call Swift out for not having the best singing voice, which is something she and Juliette have in common (made clear by that auto-tune crack in the recording studio).

If you're a fan of Swift, or a big country music fan, you saw the similarities between today's young star of country and Deacon's niece Scarlett. Like Scarlett, Taylor had a background in poetry before becoming a superstar. Where did Taylor catch the eye of future Big Machine Records executive Scott Borchetta? The Bluebird Cafe, which is exactly where the legend Watty White discovers Scarlett at the end of this series premiere.

The authenticity that Nashville has created by shooting the series in Nashville, and paying homage to some of its legendary locales, makes everything feel that much more genuine. Personally, I left Nashville in July after two years in the wonderful city, and this pilot excited me just from some of the scenic shots and quick mentions.

From the scenes at the aforementioned Bluebird Cafe, Rayna and Deacon's walk on the Shelby Street Bridge over the Cumberland River, the Loveless Cafe t-shirt donned by Connie Britton at bedtime, and the mention of getting a drink at Tootsies, they didn't cut too many Nashvillian corners. That is, except for the fact that there is no way on earth that a star like Rayna James would be getting a casual drink at the tourist laden Tootsies.

Where you would see stars like Rayna and Juliette is performing at the Grand Ole Opry, a tradition unparalleled in the country music world. Watching each of them singing on that stage, and all of the music during the episode for that matter, was nothing but fun for any country music fan. The best of all was probably Clare Bowen and Sam Palladio covering The Civil Wars' "If I Didn't Know Better."

We previewed it last week, and it was a haunting performance, but I'm more excited about what it might bring to the future of this show. What is Watty's idea? Why did Rayna specifically have to hear that performance? Are they going to pair Rayna with Scarlett to fight against the need to tour with Juliette?

There seem to be a lot of possibilities moving forward, not just with the music business, but in all of the relationships. Nashville has created a large twisted web of individuals early in its existence that may bring forth entertaining moments for years to come.

What did you think of the premiere of Nashville? Vote in the poll below, and tell us what you loved most about the episode in the comments...

Dan Forcella is a TV Fanatic Staff Writer. Follow him on Twitter.

Tags: Reviews, Nashville
From Around the Web