Modern Family Review: Phil's-Osophy and Venn Diagrams
Leigh Raines at .
The Modern Family crew all prepared to take the next steps in their respective lives on "Schooled," as Haley went off to college, Lily started kindergarten and Jay and Gloria prepped a little for the new baby.
While both were momentous occasions, as Claire put it:
Haley going to college is a miracle. Lily going to kindergarten is the law. | permalink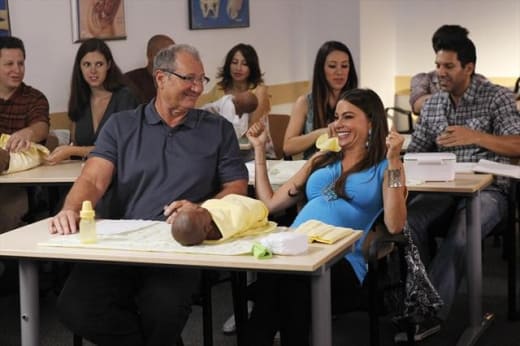 I'm sure I'm going to get some comments letting me know how offensive and stereotypical some of the jokes were tonight. As you are all entitled to your opinions, I'm entitled to say: I laughed my ass off. I thought this was one of the funnier episodes in awhile. Let's break it down by family.
The Pritchett/Tuckers Lily started kindergarten and Cam was having an extra hard time saying goodbye. He teared up for a tiny moment before hearing Lily yell "ouch, you're pulling my hair!" Cam flew across that playground faster than a speeding bullet. Did you see the way he threw that snack pack down? He was not messin' around! Obviously you should never put your hands on another person's child, but Cam didn't slam that kid against the monkey bars. He ever so gently lifted him and threatened to hang him upside down on the flagpole. Would this ever fly in real life? No. Did I laugh watching it on TV? Yeah, I did.
Then there was the whole gay guys vs. lesbians debate. Lily's nemesis' parents were two women and Cam and Mitchell explained how this would not, in fact, make communicating any easier by making human Venn Diagram comparisons. While those got a chuckle, the best Venn Diagram was at the end when with guest star Wendi McLendon-Covey and Cam made their own Venn Diagram. After throwing every stereotypical obnoxious thing they could at each other, they made nice when it came to the well being of their children. All together now: Awww.
The Dunphys College move-in day! I can feel that mix of butterflies just thinking about it. Claire and Phil are amazing, but with their track record they are also most likely to embarrass you on this occasion. I have to side with Phil on the condom thing; did Claire need to get a Costco-sized pack? Yes be prepared, but don't become the dorm condom dispenser. Phil grabbing the tush of the roommate was so disturbingly hilarious. But the best part of the whole college move in was Haley calling her parents at the end, after reading the book and wearing the "Dunphy Moving Company" t-shirt.
Seriously does ABC sell this stuff? I want that t-shirt! And I want the Phil's-osophy book! Please add this to my TV wish-list along with Nick's sexy mix from New Girl.
The Pritchett/Delgados I like seeing Jay take a more active role in the baby prep! I'm not a parent so all I'm gonna say is that some parents I know are extremely uptight. Shouldn't there be a balance? Besides, that baby is going to have three parents. Have you met Manny?
What did everyone else think of this episode? Hit the comments!