Try and remember a time when your parents really wanted you to do something but you weren't into it anymore and they told you that you couldn't quit...
Then think of a time when you felt semi-embarrassed and were teased about a hobby...
These two facts of life are what made Luke the most relatable character on the latest Modern Family.
Luke is usually there for comedic relief and side comments, but in "The Butler's Escape" he was front and center dealing with Phil's insistence that he not quit magic. Don't worry about it, buddy, I kicked the dog's gate down the stairs when my dad told me I had to continue to play cello in high school, but guess who won that argument? He claims I still owe him two years.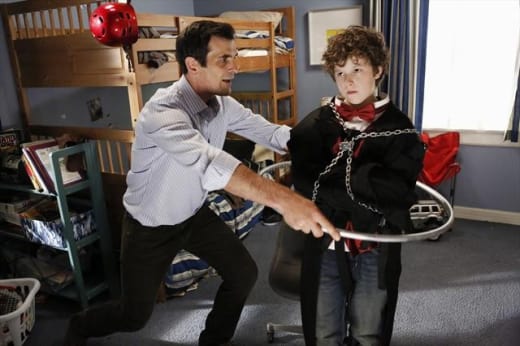 It's okay to outgrow a hobby or interest. But it's also okay to tell your friends to screw themselves if they are gonna poke fun at something important to you! Besides magic tricks are a great way to meet the ladies, according to Barney Stinson.
Life seems out of balance at the Dunphy house with Haley off at college. Maybe that's why Phil is placing more emphasis on Luke and why Claire was bothered by Alex's remarks more than usual. I will say that Claire was dead on with her realization that Alex was extra nasty because she missed her sparring partner. Sometimes siblings just need each other to say the things they can't say to anyone else. 
Claire was on fire in this episode! She was schooling Jay, fixing things for Mitchell and setting up her daughters for the mutual destruction that would ultimately restore balance in her household. Her obsession with Gloria's weight actually cracks me up. At least she realizes her stepmom is super hot. 
Dad, your hot wife who was learning to walk when you were 30 years-old, is pregnant with the baby you conceived while doing something most men would kill to do. | permanlink
Even better than Claire blowing up Mitchell's spot and calling him out on faking how well his day went was Cam's reaction to hug him. It's true that if Mitchell had to ask Claire for a favor he was truly desperate.
Random things I loved in this episode:
Lily sleeps with an eye mask. A girl after my own heart!
Cam's first day of school sweater with the music note.
Phil's magic outfit.
What did you all think of this episode? Can Cam and Mitchell work things out in their new roles? Were you expecting to see Gloria at the bottom of the elevator? Remember not to call it "'Frisco" and visit our Modern Family quotes section now!