If you were a fan of 24, you should really tune in to Last Resort.
As I found myself holding my breath for much of "Eight Bells," I couldn't help but think this ABC drama just gets better and better with each episode.
This week, Marcus was concerned about waging a war on two fronts. I'd say he's already juggling three: the outside world, the island locals and his own crew.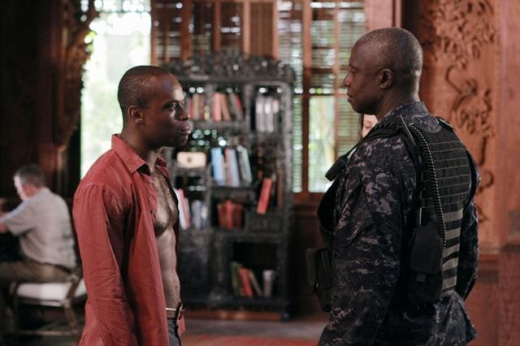 Some sailors are bordering on mutiny as they argue amongst themselves and question what the Hell they're doing on this island in the middle of nowhere surrounded by their own Navy. Fighting a definitive enemy is difficult enough. How does the crew wrap their minds around what's happening here?
As usual Chaplin dealt with the challenge in a way I didn't expect. Realizing he can't arrest half of his crew, he let the COB out of the brig. As the Captain strode into the makeshift cell, Joe dripped sarcasm as he quipped in this Last Resort quote…
 Don't tell me you're under arrest too. We're getting full up here. | permalink
Of course Marcus didn't let him out without some assurances. If he gave his word he wouldn't sabotage the Captain, he could help find their missing people and testify against Chaplin in the court martial when they got back home.
Marcus might trust Joe's word but Sam's not about to take his eyes off the COB. I couldn't say I blamed him. 
I was anxious to see Joe's first meeting with Grace upon his release and it didn't disappoint.
Joe: You didn't write. You didn't call.
Grace: You didn't hang yourself with your shoelaces. We all have our disappointments to muster. | permalink
These two mortal enemies are going to be a lot of fun to watch this season, but I'm fairly sure at some point they may have to work together. The standard turn of events would mean an incident forces them together where they learn to respect one another. I find myself hoping that doesn't happen as Last Resort likes to throw us curve balls whenever it can.
The entire sub sequence had me holding my breath. Looked like the Perseus prototype had a few bugs to work out. I loved the way they introduced a bit of humor into the most intense situations.
Joe: She always moans a little at 1300 feet. That's her g-spot. | permalink
Then they took the sub down to 1800 feet and had to avoid depth charges just to keep things interesting. As if that weren't enough, the crew had to traverse an underwater canyon. Talk about building the tension.

And yet, after all that, they still lost a man.

Julian proved to be a true s.o.b. as he not only took advantage of Cortez but then shot Red. I'm not sure who Red should have been more upset with at the end, the man who was about to shoot him or the fellow sailor who called him out. Telling someone you're sorry after you've just marked them for death really doesn't cut it. 

Red's death was Julian's way of enforcing his own boundaries, similar to Marcus shooting the torpedo at the USS Illinois or firing the missile off the coast of Wasthington DC. Time will tell if it was an adequate display of power or a short sighted show of arrogance. You can be sure that Chaplin won't forget it.

Even the scenes back in D.C. had my heart racing. The Admiral needed Kylie to make some noise but it didn't look like she was going to get far. Apparently having a daddy who plays golf with the president is more of a liability than an asset. I want to know who this guy is and what's his role in the cover up. 

At least Robert, Kylie, and the Admiral all avoided a fatal allergy attack for another week.

Finally, James and Tani gave us a little bit of romance. These two have some nice chemistry and I hope we get to see more of them. The swimming scene ended much too soon but as Tani said, on the island the best things never last long.

The funeral procession at the end served as a reminder of how much everyone has lost. The family who lost their son, the crew who's lost Red, Marcus whose son remains frozen in a morgue instead of being buried.

It all left me wondering if the crew of the USS Colorado will ever see that 21 gun salute or anything else on the US shore ever again.

C. Orlando is a TV Fanatic Staff Writer. Follow her on Twitter.

Tags: Reviews, Last Resort