Hart of Dixie Review: Leprosy, Armadillos and Video Games
Kate Brooks at .
I have to say, "If It Makes You Happy" opened with the most beautiful scene - and that was Wade shirtless. To the director of that episode, keep up the good work.
The Hart of Dixie crew knows it has six special assets which are, of course, Wilson Bethel's abs. You could wash clothes on those babies! Now that I've spent enough time talking about his perfection, let's talk about the actual episode. 
For the first couple installments of this season I noticed a definite tone change. It went from a more dramatic and serious to comedic and light-hearted. It was a welcome shift. Tonight, we got somewhat of a break from this, with focus moving back to the series side of life in Bluebell.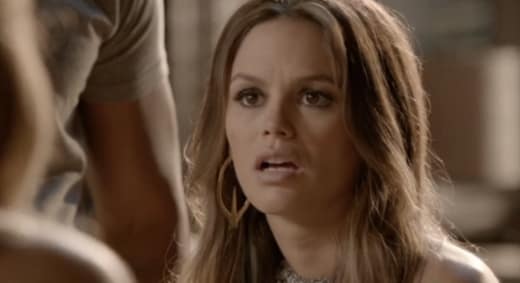 The first scene in particular stands out.
After Brick crashed George's date in the most obnoxious way, they had a screaming match outside of the restaurant and then in came Lavon to the rescue. It was in this moment we saw just why Lavon is such a good mayor and why he needs to stay in that office.
Then we had the emotional moment when both George and Brick bared their soul to each other, so-to-speak. This broke my heart and made me love Brick Breeland more than I already do. Not only did George break his daughter's heart, he admitted that his heart was broken too. Poor Brick! Now go fly to Emily to make it all better! 
The second emotional scene was the one between Annabeth and Lemon. I was disappointed in the digression that was made with Lemon this week. Last week she was ready to be on her own, move on, and forget about George... but here she was back at square one. She couldn't bare the thought of George dating someone and made it her mission to beat him. I had a big problem with this at first and then at the end Annabeth said was I was thinking: that when Lemon set her mind to something, she could do it and was capable of doing it. Good call Annabeth.
As I have in my past two reviews, I will take a moment to talk about how much I love Ruby! Even though her storyline is looking to be more of the antagonist side, I adore her even more. Tonight, while Ruby was hitting on hottie dentist, she had so much confidence and swagger. Then when she admitted that she loves to beat Lemon at everything, I laughed so hard!
Ruby has an attitude and she doesn't even care. I love it. Her character is going to be so good on this show and even if she turns out to be the "bad guy" Ruby will keep the plot moving forward. If you don't see it now, you will. 
Then there is Zoe and Wade. I have been so angry at Wade for being so childish in the past two episodes, but tonight it changed. It started when he agreed to help Zoe with the Leprosy scare and especially when he was with his dad. Earl admitted that Wade had been talking about Zoe and this was one of the most adorable moments in the episode. Towards the end, when Wade made his long speech to Zoe about happiness, it was like in a blink of an eye Wade was an adult and was giving honest to God advice.
This needs to happen more, otherwise I don't want to see Zoe with Wade, she deserves more than the childish version of him. 
I have to be very honest and say that I didn't care about Zoe's personal plot line in this episode. To be completely honest, I normally don't care. The supporting character -: Lavon, Lemon, Brick, Annabeth - those are the stories I want to see more of. My favorite moments from tonight was Lemon asking Lavon to be his campaign manager. YES! These two are my favorite dynamic and I've been waiting for a reason for them to have more scenes together. I'm so excited.
The only thing that disappointed me was that Rose wasn't in the episode. I really want more of her! I know that Olympic gymnast McKayla Maroney will be guest starring soon (my guess is episode 7) as Rose's friend, so I look forward to seeing that storyline play out. McKayla said that her character is kind of a mean girl; exciting! I also may be overexcited and bias about McKayla because quite frankly the girl is awesome.
Overall, tonight was pretty decent. We are still in the "setting up" episodes and I have no doubt we all will be happy with how it plays out, at least I hope. (*Crosses fingers for a Lemon and Lavon romance*.)