Arizona's big storyline on Grey's Anatomy is going to be rather dark.
That much is obvious after one episode, with another flashback-centric installment sure to shed more light on the inner struggles facing the pediatric surgeon - and her wife. What is Callie's state of mind through all this?
"Her life and her child's life are affected, greatly," Sara Ramirez says of the emotional scars she bears. "And we see her having to grapple with the constant reminder of what's happened, not being able to get away from it."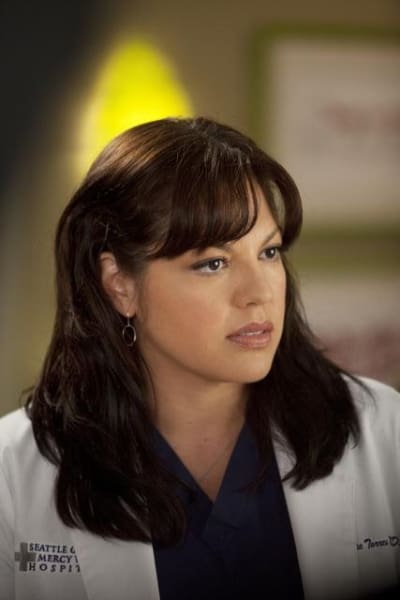 Derek, meanwhile "has to try and find his peace with [teaching the interns]," Kevin McKidd says. "He doesn't get to cut anymore, but he gets to be this amazing teacher. Owen helps him learn how to be a teacher again."
This week's episode and the one after it (October 18) will continue to deal with the fallout from the plane crash. It won't be until the following week, in the fourth episode of Season 9, that the tone begins to lighten a bit.
"The first three episodes deal with all the repercussions of the finale, so Episode 4 is very comedic," says McKidd, who stepped behind the camera to direct the episode as well. "We needed some lightness."
"It's good to be dark for a while, but people like to have their lightness… the more kind of slightly zany, screwball stuff that Grey's does so well. Tonally it's so different from the first three episodes of the season."
Then comes November 1. "Beautiful Doom" is the Meredith and Cristina episode supposedly unlike any the show has done before ... and one that sounds very much the opposite of light. But we'll see!
Sound off on all things Grey's, and check out the latest Season 9 trailer below:
Steve Marsi is the Managing Editor of TV Fanatic. Follow him on Google+ or email him here.