Gossip Girl Finale Set Photos, Take 3: Meet Henry!
Steve Marsi at .
You know the drill by now. Below are some photos from the set of the Gossip Girl finale.
The finale which does not air until December 10, and wraps up the CW show for good.
The finale which, therefore, contains some potentially life-altering revelations.
WARNING: Consider yourself prepared, because spoilers lie head.
Okay. Remember those rumors that Chuck and Blair have a kid who is revealed in some sort of flash forward? Well, here he is ... if that's even the character the youngster shown here is playing.
Considering there's another character on the show who already has a son, it's far from guaranteed that this cutie is the future offspring of Chuck Bass and Blair Waldorf. But anything's possible!
According to (unsubstantiated) online reports, that's who it is, and his name is Henry. Aww. He certainly looks the part with the purple bowtie. Take a look at some photos of the toddler here: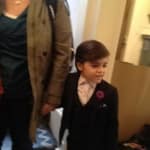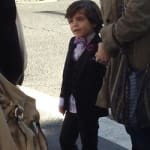 The major buzz this week is that Chair gets married on the 10th and final episode of Gossip Girl Season 6 - an event shown with some clarity in these Gossip Girl finale set photos. Or is it all a dream?
Another duo is reportedly tying the not ... or so these Dan-Serena pics would have you believe. It could all be a ruse to keep us guessing, or a fantasy sequence. And now there's "Henry," if that's his name.
What do you think? Is this really Chuck and Blair's kid? Or is there another explanation you think is more likely? Share your theories - or evidence, if you have any - in the comments below!
Steve Marsi is the Managing Editor of TV Fanatic. Follow him on Google+ or email him here.