The second episode of a new series is where you have to worry. Allow me to explain.
As a rule, the networks approve a new show based on the pilot. However, a lot of shows will make revisions or additions when they go into regular productions, which start with (you guessed it) the second episode.
I've seen some very promising pilots make some horrible choices once they move past the opening episode. So I was glad to see that "While You Were Sleeping" featured only some minor changes to the formula I enjoyed so much on the Elementary premiere. In fact, I only saw two significant tweaks - and both turned out to be good choices.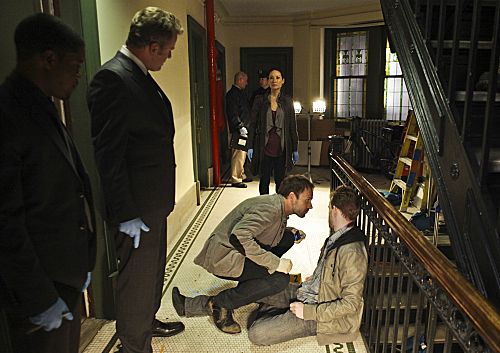 Detective Marcus Bell – Many may ask why they needed a different detective aside from Det. Abreu. First, Bell is a more memorable character out of the gate. I'm not saying that Abreu couldn't have become one, but he didn't start off as strong as he needed to be.  

Second, Bell is presented with much more experience and knowledge than Abreu possessed. This, in turn, allowed for the expected conflict between him and Holmes over the evidence/facts. And let's face it, Holmes showing up the police and proving them wrong is one of the staples of the franchise. Before you flame me, I realize he did it a little with Abreu last Thursday, but they didn't really disagree or argue the way he did with Bell. 

Additionally, I have a suspicion that Jon Michael Hill's (Bell) race/heritage was considered to be a better choice for the character (or missing from the show). Regardless if was or not, I'm absolutely sure his experience playing a cop on Detroit 1-8-7 was a major deciding factor given how well he does it.

The Violin – Go ahead and try to tell me you didn't cheer just a little when Watson walked out with the violin. Yeah, I did too. I can't remember any version of Sherlock Holmes not having a violin. His instrument resulted in one of the better Elementary quotes, too, as Watson and Holmes bumped heads. 

Once more, someone was thinking ahead and decided to tie a bigger story to it, thanks to the tears when he opened the case. I can't wait till we find out more about the history of that violin and why he stopped playing. I wonder exactly how much of what makes Holmes tick we are going to get to learn. 

There were a few other minor additions that could be new or just normal add-ons from the second episode, such as Watson's ex-boyfriend and life prior to meeting Holmes. 

I like the show as much this week as I did after watching the pilot. Watson and Holmes are going through some typical growing pains of deciding how much they can trust each other and how much they can share with each other. And, of course, Holmes was brilliant as ever. I think I might be developing a serious man-crush on Jonny Lee Miller.

The only minor disappointment from this episode was that after reviewing Hawaii Five-0 and CSI for so long I figured out that the sister was in a fake coma and that Holmes and Bell's scuffle was staged to flush her out. However, I was surprised that it was the doctor and not the other sister. 

What did you think of the second offering? Did you like the addition of Detective Bell? 

Jim G. is a TV Fanatic Staff Writer. Follow him on Twitter.

Tags: Elementary, Reviews
Want more Elementary?
Sign up for our daily newsletter and receive the latest tv news delivered to your inbox for free!
More From TV Fanatic

On tonight's The Bridge, the search for Eleanor continues. Will she kill again before she's found?

On Extant, Molly reveals her pregnancy to John. However, Sparks' story isn't exactly a plausible explanation.

On Graceland, Mike, Briggs and the team pull out all the stops to get Paige back. Read our review of "The Unlucky One" to find out if they were successful.

On Suits, Rachel and Jessica's life choices seep their way into the business of the men in their lives, some of which only cause more problems. Read out review of "Litt the Hell Up."
---