Well... that was fun! In typical Castle fashion, "Secret's Safe With Me" provided us viewers with a light-hearted and enjoyable hour. Let's talk about it...
Eye I See You! The weekly case followed the death of a brother and sister pair who had been trying to purchase a storage unit to track down information on the murderer of their parents. Twists and turns led us to Storage War type bidders, as well as rich socialites and criminals.
Never did I think that a prosthetic eye would be the answer to the case. Kind of gross, kind of fun. Basically, Castle perfection. Besides, how could you not love the auction scene?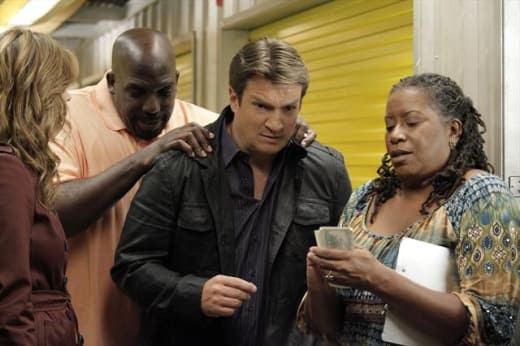 All Children Grow Up. Alexis finally made the big move to her first dorm room. First, can we acknowledge the fact that her dorm was nicer than most college apartments? Seriously, why did I not have a dorm that looked like that? Secondly, who else teared up at the goodbye scene between the father/daughter duo? I know I wasn't alone. 
Castle has always been a great father to Alexis. Even in his funny and immature moments, he has always been there for his daughter. Although we are not treated to too many important scenes between the pair, they have always been enjoyable. Maybe now that Alexis is not living at home, these moments between will carry more of an impact. 
"I Saw The Poor Girl Hiding." It looks like the cat is out of the bag! With a few people at least. Martha told Castle she knows about him and Beckett and that it is time to tell Alexis. How cute was it that Beckett cared what Alexis thought? These two are becoming so mature! 
Who will be next? My guess is on Lanie. It will give the two girls some time to have a friendly moment. What do you think? Javi or Ryan? How will Gates take it?
Speaking of Gates, how excited was she for that creepy doll? Who knew that the tough woman would be such a softy for a porcelain doll?
The World's Best Handshake. Caskett continued to rock every scene they share together now as a couple. The two have such a natural chemistry that has always radiated across the screen. But now that they are in a relationship, it feels even hotter. You have to love the exchanges and tension between them while they are in public. To keep the arc interesting, the other detectives need to find out. I can only imagine the ridicule that Javi and Kevin will give Castle. It is going to make for some hilarious scenes.
Seriously though, Nathan Fillion and Stana Katic rocked in "Secret's Safe WIth Me." Keep it up, guys, it's the best part about Monday nights.
What did you think, TV Fanatics? Did you enjoy the episode or did it fall flat after last week's "Cloudy With A Chance of Murder." Hit the comments and let us know. Don't forget to check out the Castle quotes page and the official TV Fanatic Castle Round Table later in the week.

Until next week, Castle fans.