Busted!! A weekend away for our favorite couple led to a murder and a secret leaking. "Murder, He Wrote" took Castle and Beckett to the Hamptons to find a dead body and to be outed as a couple. Time to talk Castle...
Breaking Rich. A wealthy weekender is found dead in Castle's pool after being shot. Having been involved in a bank scandal, clues point to a former colleague that the victim had testified against. In a twist, the victim and his colleague had been setting up meth labs in different buildings around the city.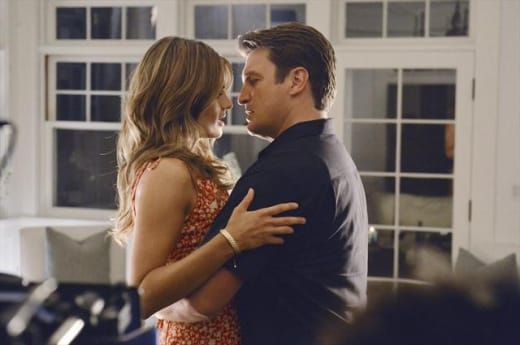 This show is usually on point with the twists and turns it throws out during the weekly case. This murder? Not so much. Having the head of the marina be the killer made sense, but in the last 30 seconds, it turned out to be a local deputy who didn't like the wealthy weekenders. This ending didn't make complete sense for the fact that the killer was someone we had seen on screen for maybe all of two minutes.
On the other hand, the case was fun and it got Castle and Beckett some what out as a couple...
Describe Her! Ryan helped out with the case by interviewing suspects back in the city. Luckily, one of them had had already spoken with Castle and Beckett. 
How much did you love Ryan's reaction to the news that it was Kate out there with Castle? The actors on this show are impeccable with their facial reactions. 
So the secret is slowly coming out. Martha, Alexis and Ryan now know about the couple. Who is next? 
"We Are Caskett." Not only was this quote so hilarious, especially since it came after a Brangelina jab, but it recognized all of the shippers out there. Since Season One, Caskett has been a couple us at TV Fanatic have rooted for, and now they are an official couple with an official name. LOVE IT! For more awesome quotes, check out the Castle quotes page. 
After Thoughts:
Quick sightings of Lanie, Martha, and Alexis. Looks like the ladies are working their way back on our screens!
How ridiculous was Castle's beach house? Kate Beckett is one lucky woman.
Ryan is such a good friend that he is going to keep the secret of Castle and Beckett to himself. 
A fear of getting this couple together now would be that the stories would suffer. Have to say, these two work as a couple so well, it doesn't seem awkward at all.
What a fun episode! The series continues with its light hearted and enjoyable episodes. What did you think, TV Fanatics? Hit up the comments and let us know what you thought of Caskett's weekend adventure. And don't forget to check back for the official
Castle
Round Table
later in the week
.
No new episode next Monday! Until then, Castle fans!