Ironically, Cat admitted during "All In" to swan diving off the cliff when it came to Vincent, and I chose to title my post Swan Dive last week. Who knew?
It really was a pretty raw deal for her to discover he had a "burner phone" for emergencies and didn't bother to give her the number. She was writing notes and giving them to JT like a girl in grade school, and he was receiving calls from the people he considered important. Tough blow to take.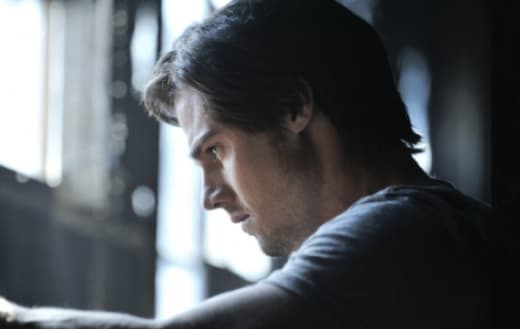 What became obvious during the episode was how much Vincent had missed contact with the outside world and making a difference in it. He was once a doctor who went from helping people to hurting them. By following Cat, he got the opportunity to assist in a case after he witnessed an innocent woman arrested, and he remembered how good it felt to be on the right side of humanity.
It's sad to think that when he signed up to be a super soldier, he probably did so believing he would be Batman. With as many shout-outs as he gave the mythical superhero tonight, I could imagine a young soldier with visions of taking down the villains with his super strength and cunning abilities. If he was intelligent to begin with, certainly he'd only be more so after the enhancement. 
Instead he ended up a beastly creature that even he doesn't understand and can't completely control after many years of trying. It makes sense now that he was hidden away. He knew enough to be aware of his human trigger points. Cat has thrown him right into the path of them and he can't turn away. He wants to protect and heal and like everyone else it's obvious he wants to love. Not giving Cat his number was probably his last hope at keeping love at bay. 
Now I see how Cat being a cop will help propel the story forward. She needs to be out there and he needs to have a reason to help. Tess was pretty cool with the whole thing, especially when she said that even if Cat disappeared unexpectedly for a week she'd still be the best partner Tess had ever had.
That made me wonder how long it will be before she's in on the secret. If JT can know, then someone on Cat's side will eventually be made aware. Like Hank on Grimm, I'm betting it will be Tess. It won't be a member of Cat's family, as she'd be too worried about them. Another possibility could be Max if Vincent somehow got hurt, but that would create an odd love triangle rift, even though nobody is involved. 
There were a couple things about the case that confused me. First, how did Cat keep everyone from the room where Vincent was with the killer? I watched it twice and still couldn't make it out.
Secondly, why was the chief so angry about Cat working the case after she was suspended? Not so much that she was working under those circumstances, but that she took the chewing tobacco. He said she stole it from the club without a warrant. I've watched enough cop shows to know that anything someone leaves behind as trash is open for anyone to take and analyze without a warrant. Instead of congratulating her, he threatened to toss her out as garbage. 
In spite of all the precautions that were taken, someone figured out that Vincent is alive. That's an exciting proposition and should make for some action packed storylines coming forth. I'm still very anxious to know if any of his fellow soldiers are alive, but doubting that a bit if the mystery men are relying on Catherine Chandler to reel him in. It would seem a super soldier could do that quite well on his own, even better if there were a pack of them. 
It felt like we found some solid ground. I was a little concerned that Vincent wouldn't turn, but they gave him a last minute changeover and did so in the dark so we couldn't see to what degree the special effects have come along. When all was said and done, I found myself looking forward to next week. What about you?
Carissa Pavlica is the managing editor and a staff writer for TV Fanatic. She's a member of the Broadcast Television Journalists Association (BTJA), enjoys mentoring writers, wine, and passionately discussing the nuances of television. Follow her on Twitter and email her here at TV Fanatic.