Perception Season Finale Review: Nothing But The Truth

Sean McKenna at .
With Perception's 10 episodes ending via a great season one finale, it's safe to say that Eric McCormack has found a fantastic character to sink his teeth into.
McCormack has always had a likable personality and charm, but it's been tough for him to completely break away from his character on Will & Grace. Not to say that Will Truman wasn't great, but there's always something about being on a series for so long that sometimes people and viewers can't separate the actor and the character.
Except the star found a way to bring to life Daniel Pierce in a way that wasn't Will Truman or even Eric McCormack playing the doctor. This was Daniel Pierce as Daniel Pierce, a compelling character with quirks, flaws, humor and a personality that made you want to watch him solve crimes.
And "Light," while it did send Pierce into a darker hole even after his realization that he had been hallucinating for three days, managed to illustrate his ability to push back and find the positives in dealing with schizophrenia.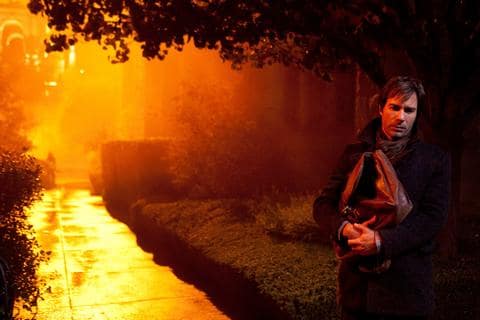 Boy, did the show sink Pierce to an ultimate low.
First, he discovered his doctor looked exactly like Natalie, confusing him even further. Then he found out she technically was Natalie (but really named Caroline), the girl he saw in college, but in reality he never spoke to. Imagining that they dated and she was there was truly when his first symptoms began.
The heartbreaking line he said to Caroline truly made you want to hug the guy: "I always believed there was this one beautiful summer, before I became a complete whacko, and I had what normal people have: someone to love, something real. And now I look at you, the most familiar stranger I've ever met, and I know I never had it at all."
The emotional resonance between the two characters was sincere and each story Pierce told or "remembered" opened up even further his type of character. Sure, he spent the first half mostly being sad in bed, but can you blame him? His world was turned upside down.
Which is why it was fantastic to see him, in addition to taking his meds, have a resurgence of determination and passion in solving the case.
And I loved that Pierce used Caroline to play the "Natalie part" when he was trying to figure out the puzzling situation. Kelly Rowan, who plays her, has great chemistry with McCormack. Even no longer his hallucination, you could still tell that there was a certain spark between the two.
Now, the political conspiracy might not have been my favorite case, but it linked in perfectly with Pierce's situation. And certainly, having Kate's partner pretend to be Pierce to catch the killer was funny, especially with Pierce more concerned about his bike.
The final conversation about not keeping secrets with Kate was an interesting one. We know that probably won't happen (that would be too easy), but I am curious as to how their relationship will evolve whether it's platonic or romantic. I'm still mixed on how I want these two to end up, but I'm glad nothing was rushed between them this season.
However, I would love to see Caroline and Pierce test those love waters because now she's willing to be his friend. They seemed to hit it off just fine, even if he enjoys doing puzzles without her giving the answers.
And of course, the episode concluded with my favorite aspect of the series: the classroom lecture. It truly bookended the hour's concept but was a great contrast to the pilot. That last shot of Lewicki walking away and Pierce actually being able to talk to someone real was a pleasant and positive change.
My only really minor questions involved what happened to the kid who killed Wesley and who was that FBI guy Kate was talking to at the beginning. I know they don't actually impact the overall story or outcome of the episode, but that kid has to be charged right? And what happened to Kate's boss or was that guy an interim one?
Overall, Perception really stepped it up giving us a phenomenal character in Dr. Pierce and providing a pretty satisfying conclusion. It may not have been perfect, but the series is certainly on an upswing and I look forward to seeing what season two has to offer.
What did you think? Did you enjoy the finale? Excited for more Dr. Pierce? Sound off below!
Sean McKenna was a TV Fanatic Staff Writer. He retired in May of 2017. Follow him on Twitter.