Glee, you did it again. And I'm not referring to the stellar season premiere from last week. There was so much possibility for good things this week, but overall, the stories fell flat and the episode felt stretched too thin.
While "Britney 2.0" was fun, it proved why tribute episodes are just filler that serve only a moderate purpose.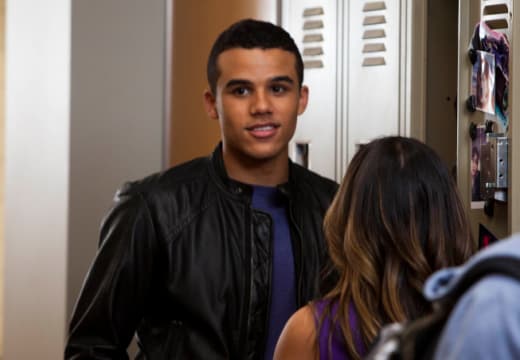 "Britney 2.0" had potential. The premise was great. Brittany S. Pierce has a meltdown and turned to her idol, Britney Spears, for inspiration. Yay for singing and dancing.
But tribute episodes are tricky. They can be done well, like the Lady Gaga example, or they can be done, well...not well, like both Britney tribute episodes so far.
Brittany started out as a caricature. She was the stereotypical, airheaded cheerleader found in every television show on which there are cheerleaders. The writers liked her, so they kept her around and made her figure more prominently into the series. I'm okay with that. Really. I like the character. But I don't like episodes like this that highlight a character for the sole purpose of doing nothing of importance with her at all.
She didn't grow this episode. Her character didn't change. Yes, she's being tutored so that she can graduate this year. Yes, she misses Santana. Yes, she's capable of pulling a Britney and orchestrating her own rise back to the top. We all knew most of this already, or could've known it in much less time than this hour took. Especially with everything else the writers crammed in.
There was entirely too much going on tonight.
Sam is suddenly the all-knowing empath of the glee clubbers, able to read everybody and know exactly how they're feeling and why they're doing what they're doing. He did it last week with Marley and this week he was able to read Brittany.
There was the lip syncing bit which served only to solidify the glee club's place at the bottom of the social barrel and give Will Schuester something to yell about.
There was "Jake's a player. Ooh! I know! This is a completely contrived story line! Let's sing 'Womanizer!'" Then there was Jake and Marley, with Jake coming to Marley's mom's defense in the cafeteria. But wait, Jake and Kitty are dating? Since when? Since just after lunch, apparently.
And oh, look! There's Puck! He's here to deliver a few lines to the half-brother he's meeting right now for the first time and then he's flying back to L.A. to live the dream as a pool cleaner. We'll trot him out the next time Will's having trouble getting through to Jake. (You can read Puck's words of wisdom for his half-brother on our Glee quotes page.)
Speaking of Puck flying to Ohio just to meet his half-brother, did you happen to catch Santana? If you blinked, you missed her. I appreciate that this is a show that has the potential to continue because of the revolving doors of high school. But I appreciate the characters we've come to know and love more. Will I be invested in the stories of the new kids eventually? Maybe. But I'm annoyed by the 30 second glimpses of the graduates. If that's all we're getting, I'd almost rather not get them at all. In this manner, their talents are largely unused and that's frustrating.
And that brings me to New York.
Last week, those scenes were my favorite. This week, they were out of place and forced.
There was no reason for Rachel to perform her dance routine to a Britney Spears song, and if they needed a sexy Britney song, there were plenty more to choose from besides "Oops, I Did It Again." Cassie July is right. Lea Michele is beautiful. But Rachel, as a character, doesn't have much sex appeal. And by much I mean NONE. Her icon is Barbra Streisand and she wore knee socks until graduation. While they've given her newer, older, more dramatic make-up, what is with the berets?
If the writers want Rachel to grow up and be sexy, don't force it on us. Make it happen. Put her in this new relationship with Brody (or don't, because that feels forced, too) and let her learn what life is like without Finn and the comforts of Lima, Ohio.
I'm disappointed tonight. I love Glee. I really, truly do. And usually, I can see the good in each episode. But aside from seeing Puck again and hearing him deliver a few one-liners, not in this one.
We're only two episodes in and if this over-stuffed tribute episode is a sign of things to come, I'm not sure I like what I'm seeing.
What did you think of "Britney 2.0"?
Miranda Wicker is a Staff Writer for TV Fanatic. Follow her on Twitter.