Bones Season Premiere Review: Hope, Pain and Grief
Steve Marsi at .
When last we saw Temperance Brennan, she was a fugitive from justice, framed for murder and on the lam with baby Christine and father Max in tow. Her decision to flee may have been rational, with her own life and that of her child grievously threatened, but it still left Seeley Booth reeling to say the least.
Monday's season premiere predictably saw Brennan clear her name and the (very well-funded) Jeffersonian unit become whole again, but the producers threw Christopher Pelant a lifeline, allowing him to slip through the fingers of the penal system once again and live to torment the Bones universe another today.
If you read any Bones spoilers this offseason, his escape was basically an open secret. Pelant (Andrew Leeds) may be the team's most dynamic nemesis to date, and the show's brain trust clearly has further plans for him.
This made tonight's show quite predictable in terms of its outcome; in essence, the true season premiere is next week, when the dust settles. What toll will the past three months take on Brennan and Booth's relationship?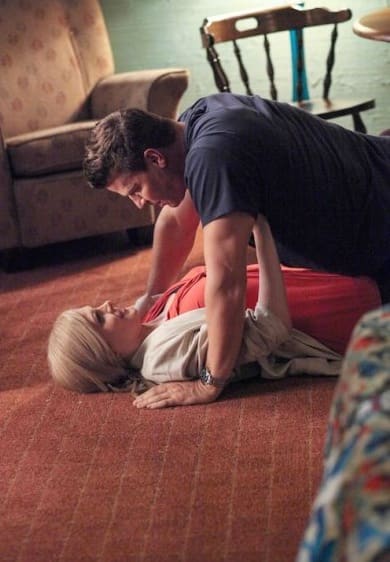 Booth took a few jabs tonight, but now that Brennan is back safe and the initial relief and gratitude give way to deeper processing of what just happened, expect more conflicting emotions to emerge in the coming weeks.
It won't be pretty.
This isn't just about Booth feeling abandoned, either. For her entire life, Brennan has been a fiercely independent woman. Last year, she became interconnected with Booth, only to tear their family apart (albeit by necessity).
How will she reconcile that now that she's back? Will she resent it? Is there still emotional room for Booth - or anyone - in the life she's built for herself? Will love be enough to get B-squared through the tough times ahead?
All questions that "The Future in the Past" posed, but did not answer. The snowdrop symbolizes hope; the marigold pain and grief. Going forward, expect to see Booth and Brennan's journey touched by all of the above.
While merely an introduction to the season's broader narrative, the Season 8 opener was still a solid episode on its own merit, full of eye-opening character moments and plot twists as the quest to clear Brennan progressed.
As usual, Emily Deschanel steals scenes with her quirky elegance, while David Boreanaz portrays Booth with underrated flair and panache. Their chemistry is terrific, even in (especially in?) times of extreme turmoil.
Desk jockey Booth had no intention of sitting back and letting the case play out on its own. Ditto fugitive Brennan, who gave her clueless disciples a meticulously prepared one. Soon enough, their paths crossed at last.
The initially violent reunion at the Snowdrop Motel was appropriate, and more than a few fans were surely disappointed that the washing machine makeout session was interrupted by Pelant's latest game (and identity) changer.
No one else at the Jeffersonian is good at waiting around, either.
Everyone played a role in breaking down Pelant's complex evidence tampering scheme, piecing together his past misdeeds, and successfully setting the trap that snared him, albeit temporarily, for hacking FBI emails.
For months, Angela had been leaving coded messages with her accused murderer BFF - who eventually sneaked in to examine the remains in the lab - while Hodgins showed a side of himself we didn't know existed.
Pelant, we learned, clearly has a death wish. Hodgins nearly fulfilled it by choking him unconscious in the cemetery, pushed to the limit by a tumultuous quest to save his friend and some personal taunting by his adversary.
Not unlike Brennan, Hodgins is a rational individual. A man of science, not rash outbursts. Not every situation can be handled rationally, however, and his behavior exemplified this for better or worse. Is it cause for concern?
Sweets' reaction suggested there may be deeper issues at work here. As for Pelant's apparent hope that Hodgins would finish him off right then and there, Sweets helped use that valuable information to solve the puzzle.
Even if he seemed a little high on himself at times, you have to hand it to lab stand-in Clark Edison for working so hard just to demote himself. His binder system got the stamp of approval from Brennan, too.
Fortunately for Clark, he'll be sticking around and focusing on archaeological pursuits, thanks to a new position created for him at the Jeffersonian, one institution clearly not feeling the pressure of federal budget cuts.
Finally, there was Max, Tempy's taskmaster co-conspirator, played with gruff aplomb by Ryan O'Neal. Past issues aside, Max was kind of the man when it came to keeping his girls safe, and helping set the trap for Pelant.
When will we see him again? And is Booth's supervisor at the FBI, who received an inordinate amount of screen time, more involved in this case than meets the eye? The closing scene with the flower was chilling.
That potential twist certainly left us with plenty of unresolved issues and potential avenues for storylines after a solid premiere. A few random thoughts and observations before turning it over to your comments:
Nice Flyers shirt, Booth. We expect at least Philly sports shout-out per week.
Pelant's fake Egyptian alias, Bassam, translates to "the one who smiles."
Lance Sweets. Packing heat. Who doesn't love that combination?
Will there be a ceremonial blonde wig burning next week?
What did you think of the Bones Season 8 premiere? Discuss below!
Steve Marsi is the Managing Editor of TV Fanatic. Follow him on Google+ or email him here.