Now we're getting somewhere. Do I love where Weeds is going? Eh.
But compared to the first few episodes of Season 8, it does finally feel like the series has a direction.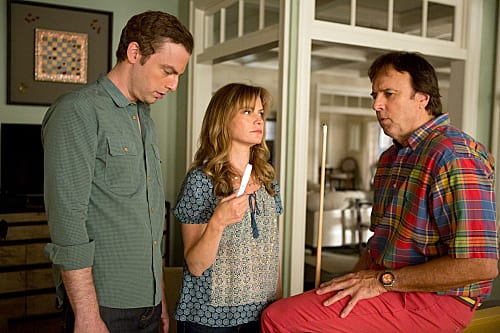 On "Allosaurus Crush Castle," Nancy and Silas appeared to truly turn over a new leaf... by signing on to legally tend to their old leaves and business. As per my usual complaints when it comes to Weeds, this development felt anything but organic, relying far too much on random characters simply thrown in by the writers. But let's not nit pick.
Let's focus instead for a week on the possibilities now open with a new venture, one that doesn't retread the same old storylines of Nancy dealing and trying to avoid capture. This is fresh and different and I applaud the show for keeping Nancy focused on actually leaving her former life behind.
I admit that I fully expected her to give up and return to what she does best. Sort of does best. She did eventually get shot in the head as a result.
Elsewhere, though, I simply don't care about Jill or her pregnancy. It opens up Andy a bit, as his job search alone should be worth a few laughs. And his evolution into a responsible father figure seems like the proper final season journey for someone who has served in every capacity on this show except actual father. It's just Jill. She's never clicked for me and she's been shoved down our throats this season.
The character isn't especially funny or interesting in any way, although she's played in such a believably frazzled manner by Jennifer Jason Leigh that it makes me excited to see how this actress transforms back into her Single White Female ways on Revenge Season 2. She's been cast as Emily Thorne's mother.
Overall, this is probably the best I can expect from a series that has lost a lot of its luster and originality over the last couple seasons. We at least have some kind of a path now for most main characters as they head toward the final stretch run.
Check out what creator Jenji Kohan recently said about the upcoming Weeds finale and chime in below with what you hope goes down.
Matt Richenthal is the Editor in Chief of TV Fanatic. Follow him on Twitter and on Google+.