With a couple of surprising twists, "Might As Well Face It" set up a great story arc that I look forward to following in the last few episodes of Necessary Roughness.
To wit: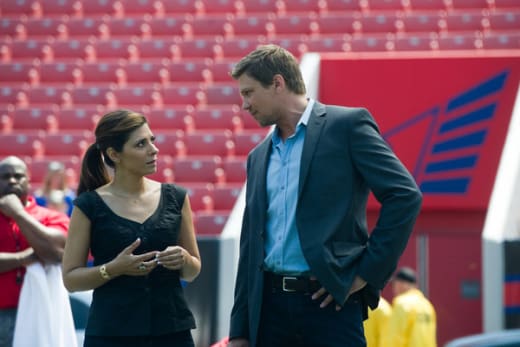 Damon Razor. He seemed like such a good match. A smart but slightly insecure talent who could both play student to TK, yet also challenge his bravado.
I really thought Damon was going to stick around for a while. The guy was both interesting and likable, so I was shocked when he decided to leave the team. Still, I couldn't argue with his reasoning. He was miserable in the spotlight.
TK kept telling him this was the life but all he could see was his mentor falling apart. So Damon chose something different and I never saw it coming.
TK's downward spiral. TK's disappointment with Damon will be nothing compared to his reaction when he finds out Nico raided his place. By the way, TK definitely needs to invest in a better security system.
When Dani told Nico to do what he had to do, I never thought that meant breaking in and stealing all of his drugs. Now they have their answers about what he's taking and how he's getting over on the drug test... but what's next? Between TK's altered mental state - due to his pill popping - and the distrust and betrayal he'll feel at having his place ransacked, I can't imagine he'll be willing to accept help from anyone.
Play to the death. Orson was actually one of favorite patients all season. I kept wondering if there was a physical reason why he wore those sunglasses all the time but it turned out to be a mental one instead.
As a matter of fact, he wore those sunglasses so often that I almost didn't recognize him in that hospital bed without them. 
Sometimes I do wish that Dani could follow up with past patients on occasion. If it ever happened, I'd vote to check in with Orson again.
Addicted to love. I kept wondering where Matt and Dani were going with their post breakup sexcapades. As Matt told Dani in this Necessary Roughness quote...
Dani: What are we doing?
Matt: I don't know but it's fun. | permalink
As much fun as it was, it certainly wasn't healthy for either of them. In the end, they were simply postponing a world of pain.
As much as I've enjoyed their relationship, I am happy that it's finally over, for real this time. Especially since it will allow Dani to explore things with Nico. As much as I like Matt, Dani and Nico are a much more interesting option.
So will TK be able to pull out of his drug induced haze? Should Dani find her way to Nico or is it simply too soon? And which patient would you like to see return to Necessary Roughness?
C. Orlando is a TV Fanatic Staff Writer. Follow her on Twitter.