It felt like we just left Grimm's season one finale, but, thanks to the Olympics, we get to enjoy "Bad Teeth" a month ahead of time.
In honor of that, I'll be sure to start this review off on the right foot with a terrible pun: tonight  was one of the best episodes of Grimm yet, and it offered more than enough to sink our teeth into.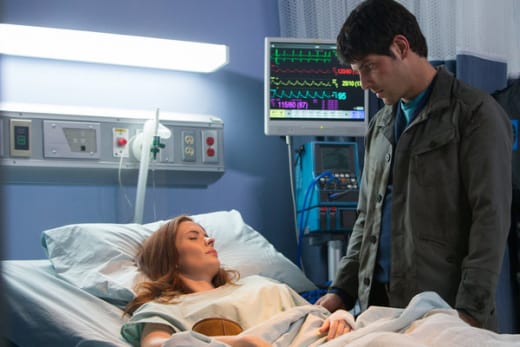 The premiere did a wonderful job of recapping the final, climatic moments of Grimm Season 1, expanding the story by setting everything off on the right foot with the ship docking into Portland. Thankfully, even with all of these new elements that are being thrown in the air, Grimm still begins to resolve or clarify the current problems.
The first being Nick's parents. There's been some confusion in the comments over the course of last season whether Nick's Grimm abilities came into focus as Aunt Marie began to succumb to her cancer and, therefore, only one Grimm can exist. Nick's Mom put a definite end to that theory. As it turns out, Nick comes from a long line of Grimms:
From his great great grandmother Hilda, to his Grandpa, and finally to his Mom and Aunt Marie. In fact, at one time, Nick's family had three active Grimms.
Along with this new family tree came more information about the seven royal families. Grimms are descendants of the knights who fought in the Fourth Crusade, and the key Nick has is the reason he is continually being targeted: the map he discovered on it. The map is part of seven, and if all seven keys can be mapped out the royal families, whoever comes into contact with the hidden treasure, will have the power to control the world.
That certainly raises the stakes for Nick, and finally adds the clarity we've desperately wanted. It was great watching Nick work through the emotions he was having with his mom suddenly reappearing in his life. He's been reeling, grieving for his Mom, and trying to move to a point where he can stop thinking about her death, only to find out she's NOT dead.
However, it doesn't take long before every child wants their mother, and Nick is no different. They're almost back into an ease that they haven't shared in a long time.
Juliette is still a sleeping beauty, but I'm beginning to think that Renard will have a bigger part to play in her waking up than Nick will; especially when Juliette's memories of him are slowly disappearing.
Finally, Renard is still a mystery, albeit one with a plan:
Renard: Because she ties him here to Portland, to me, and if she dies he could quit the force, he could leave, and I have put too much time and effort into him to allow that to happen. | permalink
Is Renard after what the royal families want? The key and the treasure that controls the world? Right now all it seems like is that he's trying to prove himself to his family.
Other thoughts:
Yeah, nice try Kimura, but Nick totally had you beat. His Mom just sucker punched you.
Hank has trouble sleeping, so he just watches the door surrounded by guns. I can't say I care.
Team Nick is working overtime to save Juliette and impress Mom. I loved how they all stood up for one another when Mama tried to kill Monroe.