Sherlock Holmes returns this fall. Yes, again. For approximately the 317th time.
What will make the CBS version of this classic character stand out? Should you give him a chance? As we breakdown a number of new programs - such as Fox's The Mob Doctor and ABC's The Last Resort - we know turn our attention to Elementary...
-------------------------------------------
When It Airs: Thursday nights at 10 on CBS.
Who It Stars: Jonny Lee Miller, Lucy Liu, Aidan Quinn, Manny Perez.
What It's About: A recent rehab graduate, Sherlock Holmes takes to New York City to solve crimes while being looked after by his sober companion, Joan Watson.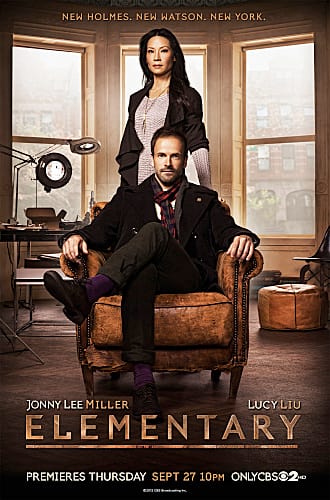 Why You Should Get A Clue: CBS and procedurals are like bread and butter. No other network does them as well, nor does any give them as much room to grow. Jonny Lee Miller and Lucy Liu have proven star power. Viewers are still angry with ABC for cancelling Miller's Eli Stone and Liu just came off of a fantastic run on Southland last season. Together, they are a joy to watch and there is a definite chemistry working between them, which makes you invest in Sherlock and Watson almost immediately.
Sherlock Holmes, in his many recent incarnations, can't seem to lose, and Miller's portrayal of him is just plain fun. Sure, he's a drug addict who could fall off the wagon at any moment and he can exasperating with his know-it-all behavior, but he's also funny and has a soft side. That soft side is shown to Watson, and it strengthens their rapport. Watson being a woman doesn't throw you off for even a second.
Why You Might Misread The Evidence: Time slot difficulties. Perhaps you're already really into Scandal and refuse to let another show interfere. Maybe the idea of a female Watson just isn't your cup of tea. If Sherlock isn't played by Benedict Cumberbatch, then he won't be played by anybody on your television screen! Honestly, there aren't a lot of reasons not to check into Elementary. Use your deductive reasoning.
Recommendation: Watch. I'm not a fan of procedurals, but the writing and performances have me gunning for Elementary to come out on top. I will be shocked if it isn't one of the bigger successes of the season.
Carissa Pavlica is the managing editor and a staff writer for TV Fanatic. Follow her on Twitter.