We know who the nominees are, and we've taken a look at some of the biggest snubs, but now it's your turn to weigh in on the 2012 Emmy Awards TV Fanatics! Staff writer Dan Forcella is here to give you quick refresher on each of the major categories, and then turn it over to you all to let us know who should win come September 23.
Other categories previewed so far: Lead Actress Comedy, Lead Actor Comedy, Supporting Actress Comedy, Supporting Actor Comedy, Comedy Series, Lead Actress Drama, Lead Actor Drama, Supporting Actress Drama.
-------------------
No offense to the boys from Downton Abbey, or yet another Mad Men performer, but the race for Outstanding Supporting Actor in a Drama Series looks to be between three men. This issue then becomes deciding which one of those three are the favorite at this point in the competition.
Peter Dinklage earned the honor last year, and he absolutely deserved it.  The man is the highlight week in and week out on Game of Thrones, so I definitely think he deserves to win again. The Academy knows that Thrones is a great show, and this may be their only chance to honor the wonderful acting on display.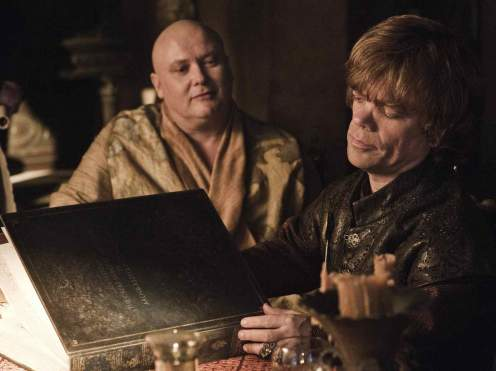 The problem for Dinklage is that he's going up against two worthy competitors from Breaking Bad. Aaron Paul won this award the last time he was eligible (2010), and most are raving just as much about his performance in 2012 as at any other point in the series run. Too bad for both recent winners that they're going up against Giancarlo Esposito.

Esposito is my favorite to win come September. His portrayal of drug lord Gustavo Fring was such a slow build that its peak and inevitable destruction both came during this past season. He quickly garnered the attention of everyone within shouting distance of a Breaking Bad fan, and because of that, he has as much of a chance as anyone.

I can't speak of the performances by Jim Carter and Brendan Coyle, since I've never seen Downton Abbey, but since neither was nominated in the miniseries category last year, I can't imagine there is a ton of weight behind these nominations. The current Emmy infatuation with Downton was seemingly enough to grab a ton of nominations, but I don't see it turning into wins for anyone but Maggie Smith.

The biggest surprise in the category was the fact that Jared Harris was nominated over four-time nominee John Slattery. I'm not saying that Harris doesn't deserve it over Slattery (although I definitely am saying he doesn't deserve it over Walton Goggins and Neal McDonough), but the switcheroo between castmates just seemed a bit strange to me. 

Who did enough to win the prize? And who just didn't have the stuff? It's your turn to let us know who you think should win this year's Emmy for Outstanding Supporting Actor in a Drama Series?

Vote in the poll below and then sound off in the comments!

Dan Forcella is a TV Fanatic Staff Writer. Follow him on Twitter.

Tags: Emmy Awards