One could say that the women of Drop Dead Diva totally kicked butt tonight in "Family Matters." After all, Jane and Kim both made some awesome legal arguments. However, I would be remiss not to mention Luke's verbal slap to the wedding caterer. Go Luke! 
Nobody wants to have their time wasted, but I'll be damned if anyone's going to try to say a wedding caterer is more important that defending a teenager on life support. Have some compassion, people. I don't care how many celebrities you've catered to!
I also enjoyed Terri and Luke joining forces. For further proof of the duo's antics, see the photo below.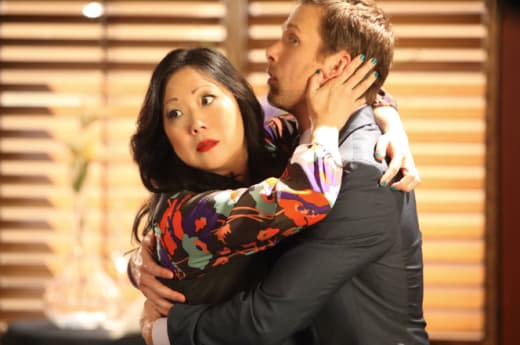 Any episode that opens with a press conference is going to be a big deal. The case against the club promoter was almost too realistic for my taste, but it was a great move for the show to feature a story on raves. Whether or not people realize it, the electric dance music scene has made a huge comeback not seen this strong since the late 90s and early aughts.
Drop Dead Diva was able to do something that not a lot of shows can easily pull off: send a message about something that really is a problem without sounding too preachy. (I'm looking at you The Secret Life of the American Teenager.) The fact is, people like to do drugs at concerts and EDM or house music is often enhanced with the drug ecstasy or it's purer form, Molly. Not blaming the music on drug use, just putting it out there that I know a ton of people who have gotten very into this house craze and Molly craze. So props to Drop Dead Diva for keeping things relevant. 
This case was sad, and it's extremely messed up that a bottled water company would cut off the fountains at a stadium to make a profit. Dehydration is one of the side effects of ecstasy so it's obvious where this was going. It's also sad and not surprising that the guy behind the whole scandal was the politician. Politics is dirty, just watch Political Animals! Well, now Mr. Phillips has blood on his hands. 
I liked the aspect of this case having a personal involvement for Owen. Owen was missing for weeks and now he's back and we're supposed to feel normal again about him? This helped bring the audience closer to him again. It also pushed for Jane to feel even more strongly about winning the case after Owen was threatened.
Elsewhere, Kim was kicking ass while Grayson looked on in admiration. So maybe it's a little unorthodox for one guy to just donate his sperm to a bunch of different chicks, but, hey, it's admirable that he does it so the women can spend money on childcare and not conceiving. Kim's speech about how it's none of the government's business how specifically babies are conceived was spot on.
If the federal government wants to get in my bed, they sure as hell better buy me dinner first. | permalink
So what did everyone else think? Did you think this was as great an episode as I did? Are you anticipating Kim Kardashian's return? Hit the comments!