Burn Notice Review: The Not Very Good Guys
Jim Garner at .
Sigh. I miss Pearce even more now after watching "Official Business."
That's what happens when her replacement is none other than Agents Bailey and Manaro, who showed up to take advantage of their newest "asset" and mandate that Fiona assist them on a case.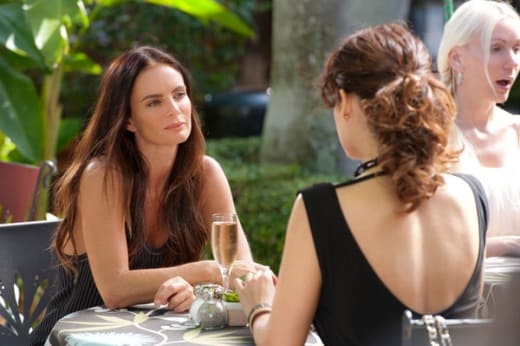 Are Bailey and Manaro from the CMA? The Central Moron Agency? How can these to chuckle nuts be from the same department that brought us Tom Card and Daniel Pearce?!? Honestly, how have they not gotten themselves killed?
Typically, I really enjoy the characters Matt Nix comes up with. For example, this week Durov was creepy and sleazy, while Angela had me completely fooled with her innocent act, followed by the shocking reality of her traitorous real self.
But Bailey and Manaro just bug the crap out of me and I have figured out why: They are recycled characters from another Nix-created program!
Matthew Bailey and Gabriel Manaro are just versions of Jack Bailey and Dan Stark from The Good Guys. Think about it.... Matthew Bailey? Jack Bailey?!? Still not convinced? Fine, here you go: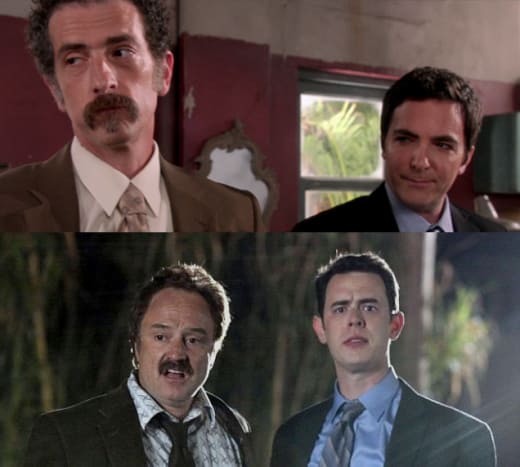 I was not a fan of that failed Fox series.
I watched the first half dozen episodes and I couldn't suspend break my disbelief in order to get into it. Bringing that level of idiocy to Burn Notice works when it's a bad guy, a client or one of Michael's contacts - but having it be the Pearce's replacement offends on more levels than I want to count.
Dumb and Dumber aside, Michael managed to finally get a strong lead on the man who killed Nate. Of course, that lead to the killer shooting the guy Michael and Sam were trying to get information out of while they were at lunch.
The only thing Michael managed to acquire was a name: Tyler Gray. What we know of Tyler Gray is that he is really good with a rifle, speaks Farsi and possesses serious training. Does anyone remember what Rebecca's brother Trent had for qualifications? Trent is pretty close to Tyler. Could it be him?
Next week is the summer season finale. Be sure and check back here shortly afterwards for our review.
Jim G. is a TV Fanatic Staff Writer. Follow him on Twitter.