Oh my God.
Aside, from saying holy sh-t over and over again like our favorite characters tonight, "oh my God" was my go-to phrase for "Homewrecker Hamilton."
The drama and comedy were in full force, and for every joke that I laughed at there was another equally powerful dramatic moment as a reaction. It's basically what Newton would discover had he not changed the world… and instead reviewed television.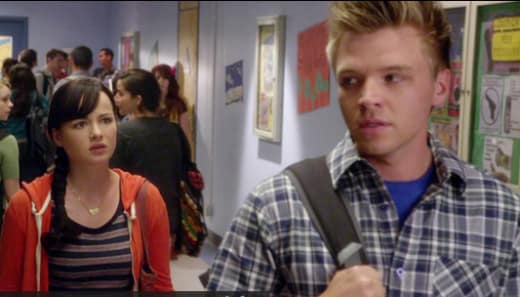 No matter the terrible trains of thought I subject you wonderful readers to, this installment was very well done. There is so much to touch upon and so much to talk about, so let's do a Tamara and think tank this!
Motion 1: The Hoopty and Kevin
The Jenna Wagon is just a cushion from Kevin, if Tamara's psychic abilities are to be trusted, for his and Lacey's upcoming divorce. In fact, we can take this metaphor further when Lacey says:
I have never seen something so offensive in my life. That car is no way to bridge your relationship gap. | permalink
The relationship gap isn't all about Jenna. Lacey and Kevin have yet to get over their own relationship gap, and, as revealed last week, Kevin has been the one to walk out on Lacey many times before. So now they are both in this gap that was similar to what Jenna was going through with a whole lot of half stories and broken hearts, but no one wanting to make the jump.
Motion 2: The Wheel of Pep Turns Bloody
Just like in the "Pilot," we found Jenna and her friends at the pep rally (and right by the trash can again). But things certainly change in a year, and now Matty doesn't have any trouble being seen with Jenny. No, Matty's only problem now is winning Jenna back.
Matty certainly won some points from me for his look of determination as he walked up to that stage and later became protective of Jenna as Jake's pain manifested itself into hurtful words against her.
I'm not sure where Jenna thought that Jake could actually talk and have a Dr. Phil moment during the pep rally, but her attempt was definitely genuine.
Motion 3: Releasing the Blog to the Hounds
As hard as Jenna tried during this entire episode she couldn't seal the getting back together deal with Jake, and I hadn't noticed it either until Jake made his feelings clear why she wasn't getting it done: humiliation. It was one thing when Jake's humiliation was kept within their small group of friends, but it quickly snowballed.
Jenna tried to win Jake back during the pep rally, which only led to him getting decked by Matty, and if that painful embarrassment wasn't enough, Jenna then didn't think things through all the way when she unleashed her private moments with both Jake and Matty to the entire school. But it's not just Jenna and her love triangle getting shrapnel from the blog bomb, it's her entire life. Jenna's one moment of misguided love has far reaching damage for everyone. For Lacey and the letter, for Kevin and his relationship with Lacey, for Ming and Tamara.
The voiceovers we are privy to are Jenna's thoughts to her blog. Nothing is sacred or secret for Jenna anymore. She is right back at square one, complete with another "suicide attempt."
In some respects Jenna has now become a fully flawed and deep character. Awkward Season 1 was about Jenna finding herself and finding her voice, but this season, so far, has been Jenna finding out that she has flaws and her good intentions don't always lead to good outcomes. Sometimes compassion and heart can be hurtful, and she learned that very sobering lesson tonight.
Smaller Motions:
The Asian mafia has shown up once again, but Becca doesn't come in peace this time around. She's out for revenge against Ming for going after her ex-boyfriend. I'm glad to see some Ming on my screen again, and Becca makes things even better. I just wonder if Ming can take down Becca and school wide influence to Fred's heart.
Sadie was trying far too hard with meddling tonight.
The anonymous blogger might not be so nice after all unless they were just as clueless about the repercussions as Jenna was. If that's the case I think it might be another student rather than an adult.
I'm usually pretty neutral in regards to which team I'm rooting for, but Matty certainly sold it well for his side this week. He tried to do all the right things, but Jenna is still very focused on Jake and Matty ended up getting pushed to the side every time.
I hope with the blog now being public knowledge we learn Lacey's take on Jenna's love life. Now that the whole story is out there.
Speaking of, in case you've missed our interview with Nikki Deloach be sure to go read it! She provided a lot of great insight to her character and teases a few things!
There were far too many amazing lines tonight to pick just one, so head over to our Awkward quotes section and read them all instead!