I'm sorry, but I don't know if there's a puppet master controlling the universe. That's above my pay grade as a TV critic.
But my main criticism of Weeds for the past couple seasons, and one highlighted on "Red In the Tooth and Claw," is that it is overly transparent on a weekly basis that the show is penned by a puppet master, creator Jenji Kohan.
There's no real flow to any episode. There doesn't feel like there's any grand plan to a season. Events don't feel organic, they feel too clearly staged by the writing staff.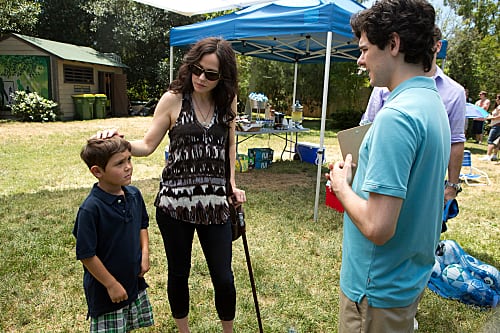 In this instance, Silas happens to make a nut job of an acquaintance. I find it VERY difficult to believe he'd entrust his beloved stash to a complete stranger, but it was necessary on the writers' part here in order to move things along. Logic was thrown out the window in favor of an attempt to shock the viewer.
There's also been Doug's random Ambien addiction and, of course, Andy just having women throwing themselves his way left and right. The fact that he acknowledges this - in a monologue that ran for way, way, way too long - doesn't change the fact that Weeds feels less like an organized show at the moment and more like a series of random events.
I asked this question last week and need to ask it again: what is driving the season? There are only a handful of episodes remaining in the life of Weeds and there's a major lack of tension at the moment.
It's impressive that Nancy is really trying to wood chip her way out of the drug business, but I can't think of a single storyline that is making me anxious for next Sunday night at 10.
And sex just isn't enough. Every single major character tonight either had sex, made an attempt to have sex or turned down an offer for sex. There was sex on a fire escape. Sex on a roller rink. A proposition made in a bedroom, outside of a pool with a total stranger.
I've been loyal to Weeds for seven-plus seasons and I'm certainly not giving up on it now, so close to the end. But I'm simply bored so far, there's no other way to put it. I hope Johan proves me wrong, but when she lets Andy ramble on for a solid two minutes about some theory based on reincarnation, I can't help but wonder if she really has run out of ideas of where to go next.
Matt Richenthal is the Editor in Chief of TV Fanatic. Follow him on Twitter and on Google+.