It's "Theatricality" week on The Glee Project. You know who would be perfect for this? Charlie. You know who went home last week? Charlie. Without him, there are only three men left standing in the final eight contenders.
Can they hang tough? Here's hoping.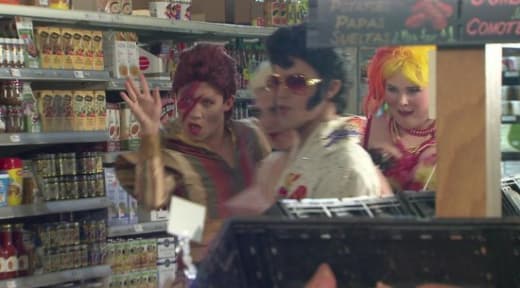 As the competition heats up, Blake and Michael, who've become great friends, find that it's difficult to compete with each other. Now that Charlie's gone, Aylin is more determined than ever to win.
The mood in the house is very subdued in Charlie's absence. Robert manages, however, to get an excited response when he tells them they'll be singing "I Hope I Get It" from A Chorus Line.
Lily takes over during their rehearsal and completely annoys Aylin.
Grant Gustin, Sebastian himself, is this weeks' guest mentor. Having gotten his start in West Side Story, he's a great one to judge this week.
This is by far not their best Homework Assignment performance. Not by a long shot. In fact, it's downright awful. If this were the only performance they had this week, none of them would be called back.
Grant compliments Michael on his voice but says sometimes his confidence is lacking. Nellie's lacking in confidence, too. Ali and Lily were his favorites. Ali won.
For the Big Group Number, they'll be performing "When I Grow Up" by The Pussycat Dolls. They'll each be assigned a pop icon to embody for the video shoot.
Michael will be Elvis. Aylin will be Madonna. Abraham gets to channel his inner David Bowie while Blake is Boy George. Lily gets Cyndi Lauper while Ali will become Katy Perry. Shanna is Lady Gaga and Nellie, unassuming Nellie, is Britney Spears.
They're back in the dance studio with Zach and Brooke and Zach admonishes them not to embarrass him this time. It won't be pretty if they do.
In the booth with Nikki, Michael says he tried not to practice beforehand to avoid crashing and burning. It didn't really work for him. Nikki asks Abraham if he feels androgynous when he sings since David Bowie was known for being androgynous. The question hits a nerve and he struggles with his performance.
In costume for the video, Shanna gets to wear what may be Lady Gaga's most infamous outfit ever--the meat dress.
Blake decides to play Boy George a little straighter than Boy George would play himself and that works in his favor. Robert is impressed. Ali's having a good week, too. Michael gets his part of the video filmed in one take and Aylin makes everyone laugh.
Nellie isn't comfortable at all and it shows. She can't loosen up to be Britney. Lily receives some criticism for being a dressed up version of herself instead of Cyndi Lauper.
Shanna, in my opinion, gets a pass on everything for wearing 20 pounds of meat for eight hours. Luckily, she does a great job with her role and Zach and Robert are impressed with her professionalism.
The video came together well, just like they all do once Erik and his team work their editing magic.
Nikki, Zach, and Robert waste no time telling Ali she's been called back for next week. Shanna, Blake, and Aylin join her on the safe list.
Michael's confidence issues continue to plague him. Nellie still can't get comfortable in the roles she's given and everyone else jumps right into them. Abraham misinterpreted Nikki's question about David Bowie being androgynous. And Lily just got Cyndi Lauper all wrong.
Nellie, Abraham, and Lily will be doing Last Chance performances.
Going first for Last Chance, Nellie's singing "I'm The Only One" by Melissa Ethridge. This doesn't start out as a great performance. It gets better when she hits the chorus, but it's not her best Last Chance. Ryan says it's the most passionate he's ever seen her and then asks who she would've chosen to be if she'd been able to be someone other than Britney. Her answer? "I don't know."  She's afraid of being overconfident and doesn't want to tell herself that she's got this when she realizes everyone in the competition wants this as bad as she does.
Abraham got "Stereo Hearts" by Gym Class Heroes and Adam Levine. He gives a great performance and then flirts with Ryan. But Ryan tells him to "drop the diva." He can't tell what part of Abraham is real and what part of Abraham is a character. But, Ryan believes that the fact that Abraham plays his true colors close to his chest could be a great asset to him as an actor. Abraham says he was paralyzed by his fear in the studio with Nikki, but he's not afraid anymore.
Closing the night, Lily sings Adele's "Someone Like You." Lily's got a great set of pipes and does a great job, but she's no Adele. Ryan reminds her that she's in the bottom three because she didn't portray a character during the video. And then an argument ensues where Lily tells Ryan she's like Cyndi Lauper and Ryan says she's not. Lily fights back saying that she got conflicting direction. Ryan's tired of hearing her "yes, but..." and tells her to lose that if she's back next week.
Robert posts the list. Lily tells the other contenders she thinks her time is up this week. The good luck hugs take place and the long walk begins.
Nellie is not called back. Lily and Abraham will stay for another round.
I'm actually kind of shocked that Ryan kept Lily and sent Nellie home, not because I think Nellie's better for the show, but because Lily seemed more like a difficult Diva than Nellie.
What do you think? Was it Nellie's time to go?
Miranda Wicker is a Staff Writer for TV Fanatic. Follow her on Twitter.