So far on The Glee Project, contenders have shown they can dance, adapt and be sexy. Tonight the remaining nine face the Slushie.
Who warms up enough to conquer this week's theme of fearlessness and who gets iced out? Let's find out...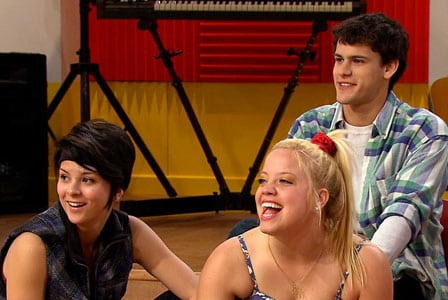 This week's theme, Fearlessness, is something Robert says all good performers have. And then he throws "Now That We've Found Love" by Heavy D and the Boys at them.
Aylin says that, given her life, nothing scares her. Abraham's not sure if Asians are supposed to rap. Nellie says she's going to feel ridiculous no matter what line of the song she sings. Michael vows not to over-think things this week.
This week's guest mentor is none other than Jane Lynch!
She tells them that the best things in life often come out of places of fear. Their performance is great considering the song they were given. This group is so talented compared to last year's, and last year's group was a great group.
Jane tells Michael that he held himself back a little bit but loved Aylin's interpretation and Lily's presence in the song. Nellie also faded into the background a bit, too. Lily  wins the Homework Assignment.
The songs for the music video are a mash-up of Blondie's "One Way Or Another" and Pat Benetar's "Hit Me With Your Best Shot." And there's going to be a slushie fight.
Jane says it's obvious they've never been hit in the face with a slushie and Shanna can't contain her excitement. To her it means initiation.
Back at the house, Nellie's breaking down a little bit over the fact that she did a Last Chance performance last week and this week has to perform in a bathing suit. Insert nervous joke here.
There's no choreography this week, which gives Aylin and Charlie plenty of time to be more than just friends.
Nellie does a great job in the booth and Charlie can't stop looking out the window at the other contenders. Nikki thinks Michael's still over-thinking, just like he always does.
On the set of the music video, Aylin gets the first slushie and laughs, which causes her to lose focus. Charlie and Nellie both struggle. Because Lily gets to be a bit of a bully this week, she does great. Ali opts to get hit with the slushies even though it seems she has an out because of her condition.
During the video, I noticed that Blake and Nellie look awesome together.
This weeks' MVPs are Lily and Ali. Next on the call back list are Shanna, Abraham, and Blake.
Charlie disappeared in the Big Group Number. Aylin couldn't stop giggling and disappointed even herself. Nellie was intimidated by the week. Michael needs to do more.
Charlie, Aylin, and Nellie are singing Last Chance numbers for Ryan. Michael's been called back for another week.
Aylin's up first singing Rihanna's "Take A Bow." This girl has some pipes! Her performance of this song rivals Lea Michele's performance. Ryan said he's never seen anyone get the slushie and laugh. To him, a leading lady has to be both strong and vulnerable and he didn't get both of those from her this week.
Charlie's singing "It's Not Unusual to Be Loved By You" by Tom Jones. He's up on the piano and running around the auditorium to serenade Nikki and Ryan and he changes up the lyrics to make a plea directly to Ryan to keep him there another week. He's got so much energy and talent, but he's a loose cannon when it comes to taking direction. Ryan says he worries that Charlie's thing, whatever it is, isn't the show. Then Charlie begs to stay.
Nellie's been given "If I Were A Boy" by Beyonce. Her problem is confidence, but when she sings, it's hard to see her as someone lacking that. Her voice is so pure and powerful. Zach, I'm almost certain, had "goosies." Ryan backs me up and says that when Nellie gets behind the microphone, there is no lack of confidence for her. Zach says he's tired of telling her how wonderful she is because there are too many people there with insecurities. They're asking her to be on Glee and she's not fighting for it.
The list is posted. The walk begins.
Aylin is safe. Nellie is safe. Charlie is going home.
Charlie's a theater actor, not a screen actor. Some actors are able to make that switch from stage to screen, but Charlie's not there yet. While I liked him and I think he's incredibly talented, he's been around for about two weeks too long. His lack of professionalism got the best of him.
So what'd you think? Did Ryan and Co. send the right contender home tonight?
Miranda Wicker is a Staff Writer for TV Fanatic. Follow her on Twitter.