The Big Bang Theory Comic-Con Panel: Romances, Tutors and a Trip Into Space
Matt Richenthal at .
Forget new Season 6 scoop or romantic tidbits for a moment, we must start with this:
The Big Bang Theory raffled off an actual ride into outer space at today's Comic-Con panel, giving out a trip aboard the Link Suborbital Space Plane to a female attendee (Mercedes Becerra of Paso Robles, CA).
That, Jim Parsons chiming in via satellite and the following revelations all combined to make for one entertaining Q&A session…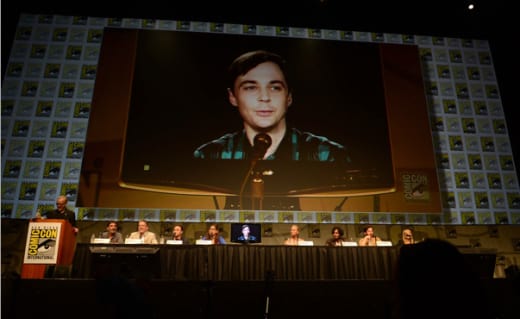 Yes, Chuck Lorre promised, there is a "romance planned for Raj." The series creator also joked about a crossover between TBBT and Two and a Half Men, considering the latter is now also on Thursday nights:
"It would be great to have one of the gang tutor Jake, because he's such a knucklehead."
Will we ever learn Penny's last name? Fans shouldn't count on it. "I think she's just like Cher, she just goes by one name," Kaley Cuoco.
From afar, Parsons said he enjoys the "exploration of the whole Amy and Sheldon relationship, it's very fun to see where that's going... as slowly as that may be."
Simon Helberg on his tight pants: "I help with the stuffing. It's a lot of sucking in and hanging."
Johnny Galecki was unable to attend, but he has a great excuse: his flight from Iraq, where he was on a USO tour, was delayed.
Matt Richenthal is the Editor in Chief of TV Fanatic. Follow him on Twitter and on Google+.