Evan attempted to land the Blackstone as a new HankMed client, while Hank tried to balance his professional life with a personal life, and Divya struggled to connect with her stubborn father with shocking results.
Indeed, Royal Pains delivered an intense episode with "About Face."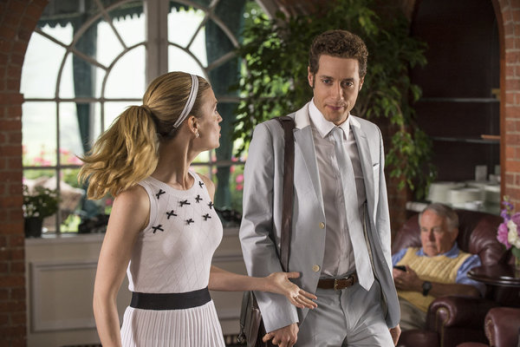 Evan appeared to have overextended himself this week. With an over-abundance of alcohol wipes invading his patio, plus Paige's surprise potential client, he certainly seemed to have his hands full.

Luckily for Evan, Sydney Bartlett seemed to be suffering from something that HankMed was fully prepared to treat, and successfully signed the Blackstone.

On other fronts, Hank embedded himself deeper into whatever silent dealings that Boris has managed to get himself into. Now strapped with a pager-watch, Hank is required to come running at Boris' will. I just want to know where that helicopter was headed? I thought that plotline was going to lead the episode. Instead, it ended it.

Unfortunately for Hank, it may have cost him his chance with Harper, who appeared in the episode several times. I think I liked her a little bit more this time, especially at the beginning when we saw her working out on the same beach Hank was running on; the witty banter that ensued was a fun start to the hour.

He seems to be moving on rather smoothly from Jill, which surprises me just a little bit. Not that he doesn't deserve to do so, it's just that they put him back in the game a little earlier than I expected.

Speaking of being back in the game, Divya, apparently with matchmaker Veronica's help, is back in the dating pool as well. Jim was a really cute guy. If only Divya hadn't aired out all her family's dirty laundry in one swoop, she might have had a chance with this guy. Maybe she should have arranged to meet him for some family therapy sessions? I would be shocked if they decided to pursue a romantic relationship after that little display. So instead of it being a total loss, she could at least get help on another front.

At this point, there's no telling quite where the situation with Divya's family may only grow worse after her father's potentially failed suicide attempt. It was a pretty dark route for this show to take in suggesting suicide, but I think the implications will make for some very powerful moments in the future... should Divya's father have one on the show.

That said, this was likely Reshma Shetty's best performance as Divya. The emotion was above and beyond anything we've really seen from her, from standing up to her father to mourning his current state, she really knocked it out of the park.

Where do you think that helicopter is headed? Do you think Divya's dad will make it?

C. Charles is a TV Fanatic Staff Writer. Follow her on Twitter.

Tags: Royal Pains, Reviews
Want more Royal Pains?
Sign up for our daily newsletter and receive the latest tv news delivered to your inbox for free!
More From TV Fanatic

This week on The Last Ship, Danny gets sick and the crew begins to panic. Is it the virus? Meanwhile, Rachel's vaccine trials continue to fail.

Who was able to successfully problem solve on The Rachael Ray Show this week? Find out now in our review of Food Network Star.

The Masons are reunited on Falling Skies Season 4 Episode 6. Will it be a happy or contentious reunion?

What took place on The Real Housewives of New Jersey Review this week? Read our rundown to find out!
---