"What's Eating You" featured many of the players on Necessary Roughness wondering if they should stay or go. 
We'll start with Jeanette. It was great to have Dani's best friend back. Since she left for Europe with her gorgeous boyfriend in Season 1, I've missed her. Dani has needed a female friend to bounce things off of and Jeanette fills that role nicely.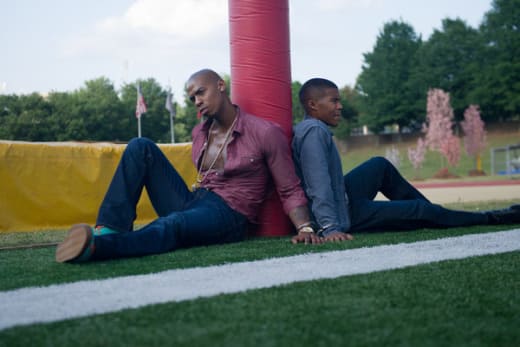 Having two failed marriages behind her, I wasn't surprised that Jeanette was balking at taking the big step again. But now that she's pregnant, I'd think that might put a different spin on things. Perhaps the third times the charm.
Speaking of a love match, was Matt moving a little fast? It feels like he and Dani just started dating and he's looking to move in. I don't think Dani's ready for that and her kids definitely aren't. 
When Matt asked Jeanette to help him shop for a ring, I think I choked as much as she did. It wouldn't surprise me if this proposal is the beginning of the end of Matt and Dani's romance.
I expected to see more of Lindsay's therapy but instead we witnessed it through her mother's eyes. Lindsay's just being a normal teenager, even with her mother's pictured taped to her punching bag. As Jeanette pointed out in this Necessary Roughness quote…
 Lindsey's a teenager. Hating her mother is in the guidebook. | permalink
But Africa was definitely out of the question. As Dani eventually pointed out, there are plenty of volunteer opportunities much closer to home.
I truly felt for Dani as she vented to her daughter's therapist. She's doing her best to protect the kids from the darker aspects of their father's behavior, but the downside of that is that Daddy always gets to look like the good guy. Dani's left to be the parent and that's not always fun.
Lindsay wasn't the only one in need of a parent. TK and Damon could have quickly had their hazing one upsmanship get out of hand. Honestly, I sort of liked the gags they played on one another. The baby gator was cute and TK's bedazzled helmut was adorable.
When Coach told TK there'd be a $5,000 fine for every hazing incident I had to laugh. The guy just got a $7 million bonus. I doubted he'd mind spending $5,000 to have a little fun. Luckily Nico was there when TK took it a step too far by moving Damon's car to Newark. Unfortunately, the Porsche couldn't be saved but the playbook was.
I found Dani's patient of the week kind of boring. The only up side was having Matt act as the protective boyfriend on the strange sleep walking/eating stakeout.
Are you happy Jeanette is back? Is Matt moving too fast? Should Dani say yes?
C. Orlando is a TV Fanatic Staff Writer. Follow her on Twitter.