With nominations for the 2012 Emmy Awards scheduled to be announced by Nick Offerman and Kerry Washington on July 19, staff writer Dan Forcella is here to give you a quick overview of each category, his predictions for the 2012 nominations, and his Emmy Wish Lists for who ought to be on the ballot.
Other categories we've covered, predicted, and forecasted so far: Lead Actor Comedy, Lead Actress Comedy, Supporting Actor Comedy, Supporting Actress Comedy, Comedy Series, Lead Actor Drama, Lead Actress Drama, Supporting Actor Drama, Supporting Actress Drama, and Drama Series.
-------------------------------------------
Not all great performances are in a leading or supporting manner. Sometimes it is a guest player that steals the show, which means it's time to take a look at the Outstanding Guest Actor in a Comedy Series race. A Saturday Night Live host has won this award two out of last three years (albeit both awards were given to the fantastic Justin Timberlake), so I wouldn't be surprised to see Jimmy Fallon come away with the trophy this time around.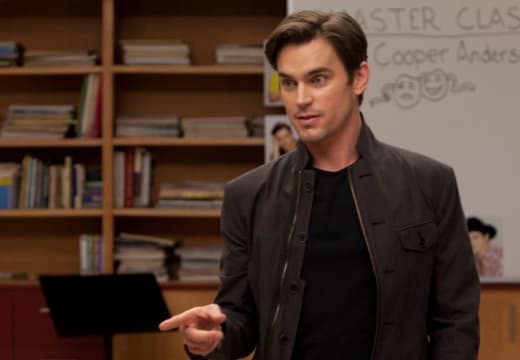 Prediction
Alan Alda - The Big C
Will Arnett - 30 Rock
Matt Bomer - Glee
Jimmy Fallon - Saturday Night Live
Michael J. Fox - Curb Your Enthusiasm
Greg Kinnear - Modern Family
Fallon's biggest competition will most likely be Michael J. Fox, who was not only a terrific sport in the Curb finale, but also absolutely hilarious in squaring off against Larry David.  Will Arnett, who has been nominated three out of the last four years, legend Alan Alda, and a sexy singing Matt Bomer may also vie for the crown this September. I like Greg Kinnear to fill the final spot, putting in a nice little performance on Emmy favorite Modern Family.
Emmy Wish List
Matt Bomer - Glee
I stopped caring about Glee so long ago that I don't really remember what else happened during Bomer's stint as Blaine's brother, but I do remember his duet of "Somebody That I Used to Know." His stare alone had me considering the possibility of switching teams.
Johnny Depp - Life's Too Short
Depp's performance as some version of himself was delightful. As he made Warwick Davis do the strangest of things, and then confronted Ricky Gervais for the Golden Globe comments, Depp reeled me in to watching the entire season of this comedy. Unfortunately, it only got worse from there.
Jimmy Fallon - Saturday Night Live
Between his Bieber impersonation, his role in the fantastic regional production of "War Horse," and whatever the heck that mirror sketch was with Andy Samberg, Fallon was mainly responsible for what might have been the best SNL of the season.
Jon Hamm - 30 Rock
None of Fallon's sketches were near as good as Jon Hamm's Abner during the live episode of 30 Rock earlier this year. I know you now need to compose yourself after hearing "Zipadeedoodoo" for the umpteenth time, but also remember Hamm was fantastic as Chuck the reporter who hated women.
Justin Long - New Girl
Too many times sitcoms get caught up in pairing the crazy character with the straight laced partner. New Girl, on the other hand, knocked it out of the park by pairing Deschanel and Long as a couple of wackadoo lovers for a couple of episodes. "Happy Birthday me!!!"
Paul Rudd - Parks and Recreation
I'm not the biggest fan of Parks, but Paul Rudd did some phenomenal work as Leslie's idiotic opponent this season. Stupidity can be stupid, but sometimes, like in the case of Rudd's performance, it can be smart. There is an intelligent way to play dumb, and Rudd nailed it.
Now it's your turn TV Fanatics.  Who would make your Emmy Wish List for Outstanding Guest Actor in a Comedy Series?
Dan Forcella is a TV Fanatic Staff Writer. Follow him on Twitter.