When does the most entertaining cast on television get upstaged at its own panel discussion?
When that cast is part of a show that recently fired its beloved creator, leaving its future vision up in the air and wreaking havoc all over the Internet.
Yes, Community took to the Comic-Con stage today and new showrunners Moses Port and David Guarascio did all they could to assuage fan fears in the face of Dan Harmon's exit.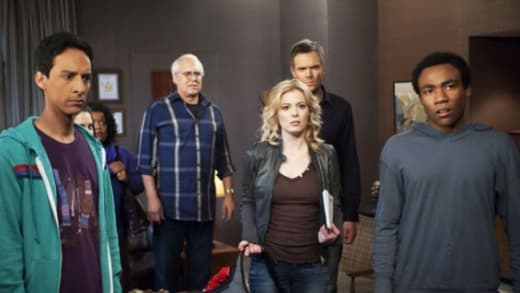 "It's all gonna be OK," Guarascio told attendees. "A couple months ago we were a lot like most of you, just huge fans of the show... The only thing we care about is keeping it this weird, wonderful gem."
Port, meanwhile, made it clear that he's aware of the talent in front of the camera.
"It's also not us coming in and taking it on by ourselves. It's the best cast on television... What I mean to say is, we won't screw it up. We promise."
No one in that cast has seen any Season 4 scripts, but Guarascio gave the crowd a few reasons to be excited for storylines this fall:
It will be senior year at Greendale, which "gives us the opportunity to explore some relationships - one of which might be the Dean and Jeff."
And Troy and Britta? "The sparks may turn into a little bit of a fire," Guarascio previewed.
There may be animation on the very first episode.
We will see Pierce's mansion on Season 4 and the study group will attend and Inspector Spacetime convention.
Return to TV Fanatic shortly for video interviews with Gillian Jacobs, Joel McHale, Danny Pudi, Alison Brie and Yvette Nicole Brown!
Matt Richenthal is the Editor in Chief of TV Fanatic. Follow him on Twitter and on Google+.