Agent Pearce returned to Burn Notice last week and so did a handful of questions surrounding this recurring player.
Fortunately, our Round Table team of Carla Day, Jim Garner, Miranda Wicker and Christine Orlando is here to tackle each and everyone of them. Read on and chime in now...
-------------------------------------------
What was your favorite scene from the episode?
Carla: Without a doubt, when Michael and Fiona reunited at the prison. Their tears, reminiscing about how they met, their Irish accents -- whoa. Heartbreaking to watch.
Jim: I have to agree with Carla. As noted in my Burn Notice review, the reunion scene in the prison was absolutely amazing. I honestly think that it was Golden Globle award level of performance. Bravo to both actors for an outstanding performance!
Miranda: I feel like it's going to be a nearly unanimous vote for this one, but Michael and Fiona's visitation. I'm not going to lie. I choked up a little. They've always loved each other, but it's never really been expressed in words before. This scene was beautiful and heartbreaking. I loved it.
Christine: At least Miranda only choked up. I had actual tears. The visit at the prison was one of my favorite scenes ever on Burn Notice.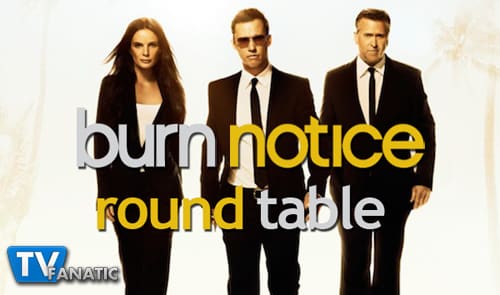 Should Fiona trust Ayn?
Carla: As mush as Fiona should trust anyone in prison -- always watching her back! But, so far so good. She helped get the message out to Michael.
Jim: So far Ayn has been a standup convict. She has kept her word and done what she has promised to do. But, the woman's not in prison for bad fashion sense, she might have a price to flip on Fiona.
Miranda: Only so far as she can throw her. I don't think Fiona should trust anyone except Michael. Not even the warden who wanted to move her to a different cell block for her "protection." Trust. No one.
Christine: Fiona's generally not a trusting soul so I don't think she'll let Ayn get the better of her but in this case she had to put her trust in someone and it paid off... this time.
Do you think there is a romance growing between Jesse and Pearce?
Carla: I hadn't thought about it until I read the question, so I guess I didn't notice it. But, I wouldn't be opposed to it. They could both use some romance.
Jim: Maybe it's just my romantic brain making one up. But I've notice that Jesse calls her Dani or Danielle more than any of the others. Look at the way he kept her focused to finish the mission - it may not be romance yet, but there are feelings.
Miranda: Jim mentioned a relationship between the two of them in last week's Round Table, and I have to admit, until then I hadn't paid attention. But I did pay attention during "Last Rites" and yes, there's most definitely something growing between Jesse and Pearce, and I'm all for it. Jesse's hot! He deserves a little love!
Christine: Definitely. They have some nice chemistry building and the shared loss helps. I think I'll enjoy this relationship build slowly.
Is Pearce becoming more like Michael or Michael more like her?
Carla: For this rogue operation, Pearce became more like Michael. She operated outside of the CIA and used manipulation similar to what Michael has done.
Jim: I'm going 60/40 on this one. Pearce has definitely joined the Westen School for Spies. But on the flip side I think Michael has been doing more "by the book" too. They are good for each other - professionally
Miranda: In this case, Pearce is becoming more like Michael. She went rogue to get the criminal and did it without loss of life. I think that's always been a key of Michael's--criminals go to jail and not the cemetery.
Christine: I think they've both learned from one another but for this case, she was certainly taking a page from the Michael Weston handbook.
Shouldn't someone recognize the name Chuck Finley by now when Sam uses it?
Carla: At some point, it wouldn't be surprising if it happened. That would be like Michael not being able to go undercover with the drug dealers because they already knew him from another mission.
Jim: I'm surprised someone hasn't recognized the name or face from a previous mission. I think Carla's comment is a nod to last week's Burn Notice where Jesse had to fly solo because Michael would have been known. Good catch Carla!
Miranda: YES! Yes, they should. Michael has all kinds of cover names and Sam always uses "Chuck." How has no one in the underground criminal world heard to be aware of Chuck Finley?
Christine: You'd think, right? It's bound to happen sooner or later and I can't wait to watch it when it does.