A reality competition + Glee = a super fun summer show known as The Glee Project. That's my kind of math, y'all.
Of the 14 hopefuls who auditioned in Chicago, New York, Nashville and through an online casting process, only one (maybe) will remain standing and that contestant will win a seven-episode arc on Glee Season 4.
Season 2 of the talent search that launched more than one career in its inaugural run begins now!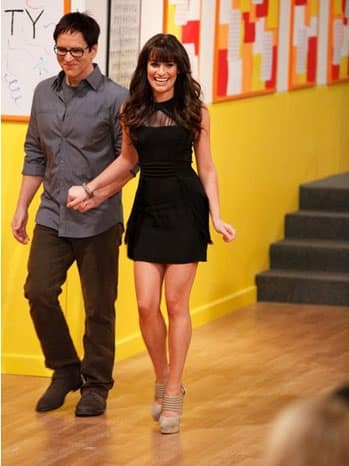 The format of the show is this: Each week there will be a theme and each week the contestants will work with vocal producer Nikki Anders and choreographer Zach Woodlee to create a music video that will be directed by Erik White. Contestants who do well in the Homework challenge will get the opportunity to work with Glee cast members who will serve as guest mentors. After watching the music video, three contestants who don't perform well will be asked to sing Last Chance performances for Ryan Murphy. He, with feedback from Nikki, Zach, and casting director Robert Ulrich, will decide who gets called back for another week and who gets to pack up and go home.
The first contestant to arrive is Dani, from Orlando, FL. She's quickly joined by Charlie, and then in walks Abraham with a shock of red hair. Alli rolls in, literally. She's paralyzed from the chest down. Mario's blind, Maxfield's only been singing for six months, and Tyler's transgendered. Aylin, who is Turkish and Muslim, is definitely this season's flirt. And that's only half of this season's players. All of them will, no doubt, have unique stories.
Robert Ulrich walks in and gives the contestants their Homework Song, Lady Gaga's "Born This Way." This week's theme is "Individuality" and this will be the first opportunity for each contestant to showcase him or herself as an individual and show how well they work in a group. Together, they'll have to choreograph the number and decide who will be singing each part.
Lily suggests that if two of them want to sing the same lines, they should settle their disputes via a game of Rock, Paper, Scissors. Aylin balks because this is, after all, a competition. Rock, Paper, Scissors is too nice for her, apparently. Charlie, who is severely ADHD and has a low-level Autism-spectrum disorder, immediately takes the lead on the choreography.
The next morning Ryan Murphy shows up with Robert to see their first Homework Song. He says that they will only be choosing one winner this year, unlike last year when he chose four. Then he introduces the first guest mentor--Lea Michele.
Ryan tells them to learn to embrace what they dislike about themselves because that's very likely what he'll want to write about if they win. Lea's first words of inspiration are "Let your geek flag fly!" They conquer their nerves and perform for the judges and then Lea critiques her favorites.
Dani knows who she is but needs to take another step forward in order to perform as who she is. Dani says that makes sense, but I get the feeling she may not understand what Lea said. Lea says Shanna will "rip through this" and then compliments Mario and Lily. Lily isn't the typical starlet and says she's used to having people look at her with judgment and not praise.
Shanna is declared the winner of the Homework Challenge. She'll get to spend some time with Lea and will have a featured moment in their first music video which will be set to "Here I Go Again On My Own" by Whitesnake.
Watching Zach Woodlee teach some of these kids choreography is always funny. While most of them are singers, or actors, they don't seem to be dancers. Mario learns the choreography by working with Glee assistant choreographer Brooke Lipton. He feels her feet and arms and she describes each move to him. It's actually really cool to watch him. He says he'll "sing and dance his blind way into Glee" and then laughs at himself. He's got an infectious laugh.
Tyler's having problems remembering the choreography and Zach says it's because he can't relax. When Zach tells them it's looking good, Brooke disagrees telling them to practice more. She seems really annoyed.
They head to the studio with Nikki Anders to lay down the vocal tracks. They each have a short line to showcase their personalities. Nikki doesn't think Taryn has much confidence and Nellie's nervous. I'm sure she's never been called Nervous Nellie, right? No. Probably not ever.
Later, Nikki calls Shanna a power house in the recording studio (much like she complimented last season's Lindsay) while Aylin lacks spunk and Max sort of flounders.
Each of the contestants has a character or personality to maintain on the set of the video. Erik White comes in to direct them and tells them the video will be one where they're all in a glee club passing out flyers and singing a song on a plain, small stage. But in their heads, they're performing at a rock concert. Pretty typical Glee.
Taryn doesn't seem to be connecting with the camera while Blake excels. Robert says that Blake coming on camera is like a star just walked into a room. Aylin's also having trouble connecting. Shanna, however, is having no trouble at all and is completely owning the fact that she was the Homework Challenge winner and is the star of the music video.
Prediction: Taryn, Aylin, and Maxfield will find themselves singing Last Chance performances for Ryan.
After watching the video, Nikki, Robert, and Zach declare that Shanna did the best job in the video. She's the first on the Callback list. Charlie, Ali, Michael, Blake, Abraham, Nellie, and Dani are also on the Callback List.
Mario has to work on conveying emotions through his body since he can't show them with his eyes. Lily didn't pop for Nikki. They're both still safe.
The judges tell Aylin she lacked the personality that drew them do her. Max's voice was great but he lacked performance. Tyler over-thought the choreography and needs to settle down a bit. Taryn didn't seem confident, perhaps, Robert says, because this is such a new experience for her.
Taryn's on the Callback list. Two out of three ain't bad, y'all.
For their Last Chance songs, Tyler, Aylin, and Max will sing songs chosen for them by Zach, Nikki, and Robert. They'll have two hours to rehearse and get ready.
Aylin will be singing the ballad version of "Without You," Max has "Always On My Mind," and Tyler's singing "ABC." He's not happy about it because Michael Jackson was so young when he sang it. He feels like he can't do it justice.
Robert says that The Glee Project isn't just about finding a talented performer. It's about finding someone who inspires Ryan to write a character. Earlier, Lea said that Ryan takes bits of their lives to write the characters on Glee. Despite the fact that this week's theme was Individuality, it's really important for the contestants to stand out and let their personalities show through during the Last Chance songs.
Aylin finds her inner flirt and brings out that part of herself for Ryan, even admitting to Ryan that she's got her eye on Blake. I think she's safe for another week.
Tyler struggles through his number and Ryan says that while he loves Tyler's story, he doesn't think Tyler has the talent to hang with most of the other contestants. When asked why that is, Tyler says that his transition has been a long process and he's still learning about himself. I think he could be the one who isn't called back.
Max has a great voice for country music and says this is new for him since he's just learned that he can sing. I could see Ryan keeping him around for another week.
Ryan asks the questions: Who can we write a great role for? Who inspires us? And then they deliberate and he thinks about sending home two of the contestants instead of just one. Nikki's "please no" says that Max might be on the chopping block.
Robert's somber when he delivers the news that the list is up. Unlike other competitions where someone has to deliver the news, each of the contestants walks down a hallway to see whether his or her name is posted on the wall.
Aylin's safe. And ecstatic. Tyler's safe, too.
Max is going home.
He had a better voice that Tyler, so for that reason, I'm sad to see him go.
This season promises big notes and maybe even a match made in Ryan Murphy Heaven! Are you excited that The Glee Project is back for another season?
Miranda Wicker is a Staff Writer for TV Fanatic. Follow her on Twitter.