Tears abounded tonight on The Glee Project as the contestants tackled their hardest challenge yet" vulnerability. The hopefuls were being tasked with tapping into their emotions to show Ryan and Co. that they have what it takes to tug at our hearts week after week.
While several of them rose to the occasion, a few of them fell flat and gave forgettable performances...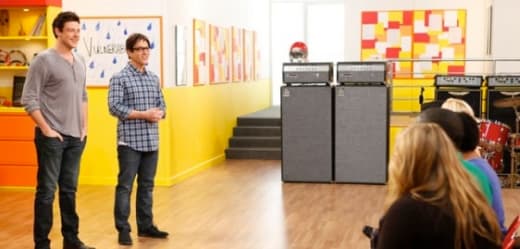 When Robert announces that this is vulnerability week, the contestants react like they've just won the lottery.
Charlie
nails it when he says that their Homework Assignment song - "My Life Would Suck Without You" - doesn't really lend itself to being vulnerable.
Lily and Aylin have a tense moment when they both want the same part in the song. Having been in the bottom three most recently, Lily's feeling extra competitive.
Cory Monteith, the one and only Finn Hudson, shows up to be guest mentor this week. This is the most bizarre song choice for vulnerability and Lily somehow makes herself look like she's going to cry on the final note of the song. That is, after she sexes up the song by pulling her hair during her solo part. Abraham and Ali lose points for pushing too hard with the emotion of the song while Shanna and Nellie receive praise for doing things just right.
Nellie wins the Homework Assignment.
Their big group number will be R.E.M.'s "Everybody Hurts," a song which most definitely lends itself to the theme of vulnerability. Erik's chosen bullying as the central idea for this week's music video. They've been bullied and they've been bullies. Erik's chat with the group ends up as one, big, therapeutic cry fest.
In the mentoring session, Nellie and Cory talk about how to tap into emotions for emotional scenes. He thinks of sad times with his family, like his parents' divorce. She thinks of her sister's death. She wins, Cory.
Ali and Mario struggle in the studio with Nikki. Aylin rocks it.
The video shoot is intense. Blake's a scary bully. Charlie goes off the books and steals Mario's cane. Shanna cries real tears. And then Lily physically assaults Aylin and they hug it out.
The video is really good. Definitely the best so far.
Blake gets called back first. Abraham, Michael, Shanna, Aylin, and Tyler join him. Tyler's getting a break from the bottom three this week.
Nellie needs to commit more and says that her biggest fear is feeling like she's made a fool of herself. Lily's not a good lip-syncer. Charlie got blasted for his cane-stealing and Ali's too perky and happy all the time. Mario is consistently off-pitch and Nikki suggests he retrain his vocal muscles. He says "that would suggest I'm not ready."
Nikki replies "Not one of you is ready."
Charlie and Mario are performing for Ryan. Nellie and Ali are on the call back list. Lily's singing the third Last Call number.
Lily's up first singing Duffy's "Mercy." She does a great job with the song and Ryan compliments her and says that Glee is a show about underdogs and she's not an underdog. And then in the spirit of vulnerability, she bursts into tears and blubbers about ballads and her heart on the stage.
Charlie sings the most jacked up rendition of Coldplay's "Fix You" that I've ever heard. (With a song like that, DON'T CHANGE IT. JUST DON'T.) Ryan claps and says Charlie inspired him and that was his favorite thing he's ever seen on the show. Charlie's always inclined to go for the brave choice and Ryan cautions that this may not be the best approach for a television actor.
Mario performs last and sings "Over The Rainbow." It seemed good, maybe great even. Ryan tells him that he can't get defensive when he's in the studio or when he's given a note or direction. And then Mario blubbers, too.
Ryan, Zach, Robert, and Nikki have a tough choice, but based on the conversation happening back in the house, I know who I'd send home. Mario throws everyone under the bus and says that what he wanted to say to Nikki was that he heard more voices than just his off-pitch and he still doesn't understand why he was in the bottom three.
Ryan's made his decision, so Robert posts the list and one by one Charlie, Mario, and Lily check the list.
Charlie is safe. Lily is safe. Mario is safe.
No one's going home this week, and really, sending them home after asking them to bare their souls is kind of mean. Even though I think Mario probably isn't long for this contest if he keeps up with that attitude of his, it's okay by me that no one went home tonight.
Who would you have sent home? Or did the producers make the right call in keeping everyone around for another week?
Miranda Wicker is a Staff Writer for TV Fanatic. Follow her on Twitter.