After last week's Necessary Roughness had T.K. wandering home to Newark to lick his wounds, I was grateful he found his way back to the Hawks in this episode. Of course, that wasn't before he bought a Winky Dog.
"Wide Deceiver" featured T.K. believing he was done with football and could be happy running the Winky Dog. Obviously that sentiment was more about fear than the desire for a good hot dog.
T.K.'s got reason to be afraid. He's still not fully recovered. He hasn't been following up on his therapy, either mental or physical, and he's still popping those pain pills.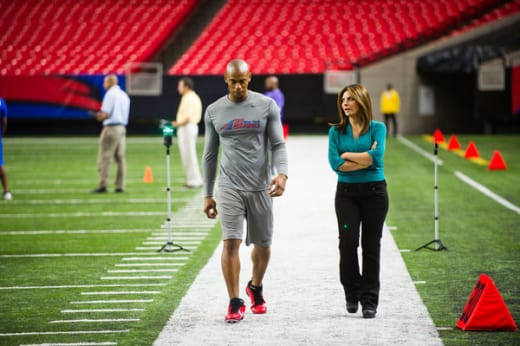 I was proud of T.K. for coming back and for encouraging Damon, or Bryce or whoever he was. It might be fun to see T.K. in the role of mentor with the new kid. But the man was in some serious pain and the road back will not be easy. All the better that he'll have Dani and Matt to help him through it.
Dani had to help her own family through some things - like Ray Jay's new obsession with girlfriend Olivia. She's obviously got the boy wrapped around her finger but that's certainly not unusual for a first love. And in the scheme of things there are worse things than your kid going vegan but a fridge full of organic tofu and kale isn't all that appetizing.
I did enjoy Lindsay poking fun at her brother when she said in this Necessary Roughness quote…
Vegetarian wasn't pretentious enough for you? | permalink
But even Lindsay wasn't immune to the sway of Olivia.
Dani made the right move inviting Olivia over for a vegan dinner and was even smarter to make herself a ribeye. Matt was right. Ray Jay and Lindsay should be able to find their own way, as annoying as that might be some days.
Unfortunately, it was Matt's very sage advice that may have led to the end of his and Dani's relationship. Matt wants kids some day. Dani's had hers. It's an issue that doesn't have to spell their doom at this moment but it will put an expiration date on their relationship and that's kind of sad.
Would you like to see Damon/Bryce stick around? How long will the kids be sucked into the cult of Olivia? Is Nico playing both sides? And do Matt and Dani have a future? Let me know what you think before the next Necessary Roughness.
C. Orlando is a TV Fanatic Staff Writer. Follow her on Twitter.