Lost Girl Review: Fae Striptease!
by Carla Day at .
It has become clear on Lost Girl that having special Fae powers is not always a fun ride. This magical world is filled with servitude and sacrifice.
"Fae Gone Wild" is right! The Selkies knew how to put the whole police department into a sexual hypnotic state. I loved that it appeared to be a planned striptease routine, yet there was a hint of a purpose behind what they were doing. What a brilliant plan to get the killer out of police custody.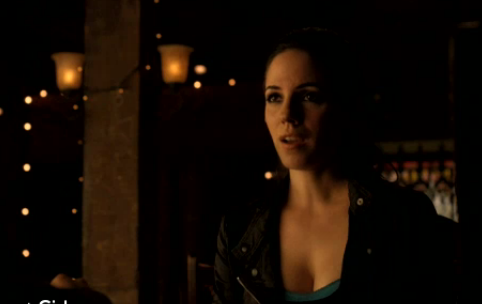 With Bo and Dyson still a bit uncomfortable around each other, it was a nice change for them to be working a mystery, but not together. Most often it seems one of them will get a case and ask the other to help out. The divide between them could be felt as they kept each other out of the loop. Ultimately, they ended up in the same place together.

Dyson's sacrifice, while unspoken, permeated the episode. When Sheri asked him if he ever had something taken away from him. Her plea convinced Dyson to cover up the Selkies' crime, since they were after the freedom that was taken away from them.

It was also apparent after a steamy love scene between Dyson and Ciara. The nudity on Lost Girl seems to get more brazen as the series goes along. That was a lot of Ciara boob, yet it didn't seem gratuitous at all. Their intimacy made Dyson's look of regret over Ciara's shoulder all the more heartbreaking. He may be with her and potentially creating a combined home, but he knows what he has lost.

Just as the Selkies were trapped into servitude by Lewis, Lauren was by the Ash. At least Lauren wasn't tricked into it and instead willingly made the agreement. Bo's anger at Lauren thankfully subsided once she learned the truth about Nadia. How do you tell someone you are falling for that your lover has been in a coma for five years? Is it acceptable to move on with someone else?

In this case, it is a tough call. Since Lauren is bound to the Ash because of her girlfriend, she probably should have been upfront with Bo right away. That didn't happen, so it became a difficult secret to reveal. In the end, the gift from Morrigan will probably bring Lauren and Bo closer together. What was in the box? And, will it save Nadia? If it does, then what happens between Lauren and Bo?

In other Fae news, unprovoked fighting between the Light and Dark Fae has broke out. Trick's concerned about what has caused this violence and sought Lauren's advice. Neither of them knew why the fighting was happening. Will Trick bring Dyson and Bo in to investigate? Is it possible Aife is nearby? The next big Fae mystery to be solved!

Carla Day is a staff writer for TV Fanatic. Follow her on Twitter and on Google+.

Tags: Reviews, Lost Girl
From Around the Web