Joseph Morgan almost died last month. On television, that is.
During a recent interview, executive producer Julie Plec admitted that the original script for the Vampire Diaries Season 3 finale called for Klaus to be killed off. Alas, she simply could not let this mesmerizing actor go.
"I must be doing something right!" Morgan joked with E! News at the Monte Carlo TV Festival about sticking around the show. "I talked to [Julie] about what would be the best thing to do. She said, 'I think there are some more stories to tell with this character," and I said, 'I agree, and I would love to have the opportunity to tell them.'"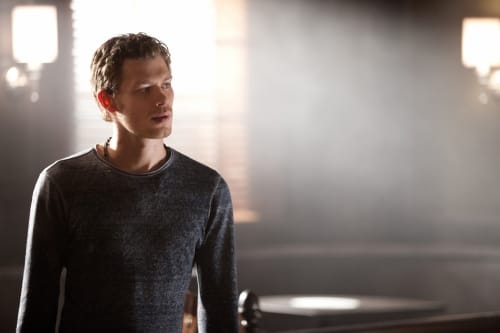 He now as that opportunity, as the Vampire Diaries Season 4 will find Klaus swapping bodies and, as Morgan surmises, possibly swapping spit as well.
"I think it will end in tears, probably Caroline's. I think Klaus will do his best to take advantage of the situation and to get something from it; I wouldn't be surprised if he does. I wouldn't be surprised if the first Klaroline kiss is in Tyler's body, but eventually I think he'll be found out because that has the most dramatic effect, right?"
Morgan adds that there's major "chemistry" with Candice Accola and he's appreciative that the Klaroline arc has allowed his character's "humanity" to shine through.
Watch the E! video interview with Morgan now and sound off: Are you glad The Vampire Diaries is keeping Klaus around?
Matt Richenthal is the Editor in Chief of TV Fanatic. Follow him on Twitter and on Google+.