After last week's Burn Notice explosive season premiere, we've all known that the path to rescue Fiona was going to be a long one. "Mixed Messages," meanwhile, showed us that it's also going to be a dangerous and winding trip as well.
Maybe it's just me, but the "rescue Fiona" story line feels very similar to early seasons of Burn Notice where Michael took jobs for different power people to get little tidbits of information. Except this time he took a risky gig from his mentor Agent Tom Card in the hopes to earn a visit with Fiona. 
Right off the bat, I'm thrilled to see John C. McGinley Agent Card. His balance of sarcasm and wit with just a touch of physical comedy will make him an interesting counter point to the more poised Michael Westen. I hope we get to see more of Card and maybe a flashback or two to discover a bit more of their history. But I have to say, he was eating yogurt when we first met him, so he already has a point in his favor.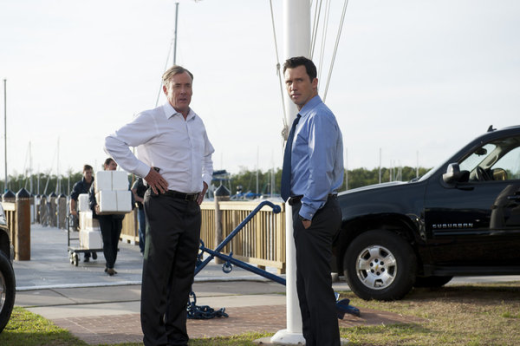 The job Michael took ended up putting Jesse on the front line. Did you feel bad that Jesse managed to sell Montero the story (that Kemp was double crossing him) so well that it got Kemp killed? The only part that confused me is how a DEA agent would know about an undercover CIA operative? Card mentioned he had lost some guys and Kemp admitted to tipping Montero off, I just must have missed how Kemp would know about them.

I'm glad the operation went well and that Michael might be able to visit Fiona soon. Especially since she had her own hands full, first dealing with the queen of the cellblock "DB," - how awesome was that slow motion slide through the smoke! I couldn't help but cheer as she downed DB's cronies and then took on the big woman herself. 

It was interesting to see that Fiona had actually made a female friend. I realized that we normally only see her with the guys, so this is a welcome change. That said, Taryn Manning's portrayal of Nicole Doneski the prison inmate felt really similar to her role as Mary Ann McGarrett, Steve's sister on Hawaii Five-0, right up to the point that she tried to kill Fiona, that is. I hope she can continue to make Nicole feel different. 

That leads us to the big question of who put Nicole up to killing Fiona: Anson? CIA? A new player? And where does this leave Fiona? Can she trust Nicole? Will she end up helping Nicole save her sister? 

I wasn't sure how it was going to work to have Fiona separated from the guys, but it turns out it opened up a ton of story opportunities and is giving us a chance to see how Fiona can do when she has to make all the decisions.

What did you think of this week's offering? Did you miss Anson or Pearce? Be sure and check out our Burn Notice quotes, as Michael and Tom had some great interactions! 

Jim G. is a TV Fanatic Staff Writer. Follow him on Twitter.

Tags: Burn Notice, Reviews