Gossip Girl star Blake Lively says she's nothing like Serena. Stop us if you've heard that before!
The 24-year-old actress tells Marie Claire, which features her on its July cover, that she knows "People like to draw a lot of parallels between my life and the scandalous stories on Gossip Girl."
"I do dress the same as my character, so they think, 'she lives this life on and off set,'" Blake says, but it's not the case. She doesn't really live the socialite life ... or get around, at all.
"I recently shared how many boyfriends I've had [four], and people were like, 'That's impossible!' But it's true," she says. "I've been with very few people in my life."
If I'm not with somebody who really excites or inspires me, then I'd rather be by myself."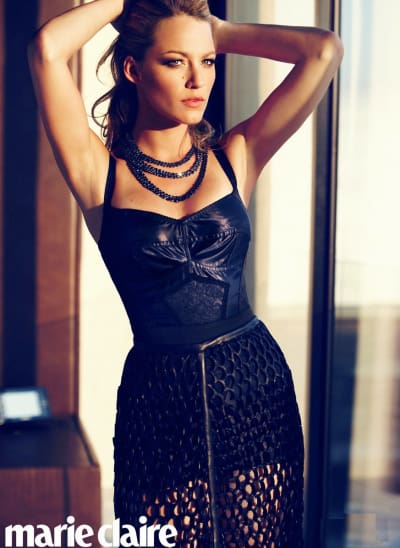 If memory serves, those four guys would be Ryan Reynolds, Leonardo DiCaprio, fellow Gossip Girl cast member Penn Badgley and ... the guy before Penn Badgley.
She says she doesn't have a stylist "Because I love fashion. It's such an expression of self. I often see people and they look great, but I can identify who styled them. Every stylist has a signature."
Lively adds that she lucked out in the style department because "maybe it sounds jerky to say this, but I'm lucky to be on such a fashion-centric show [Gossip Girl]. There's no designer I don't have access to."
Blake, who also appears in the film Savages, says that was nothing like Gossip Girl either: "I went to the gun range and learned how to shoot a gun for the first time."
"It was awful. I asked myself, 'Why were these things ever invented? But I did feel good that my first three shots were straight to the heart. It's good to know – don't mess with me in a gun battle!"
Steve Marsi is the Managing Editor of TV Fanatic. Follow him on Google+ or email him here.