"Free Family Portrait Studio" was the last episode of The Office this season. It was the final half hour with James Spader in the cast. It might have been the last we see of Kelly Kapoor and Dwight Schrute. Heck, it might be the last episode ever.
With all of those factors on the table, I couldn't help but be disappointed. This wasn't one of the show's worst efforts of the year, albeit that is a difficult feat to achieve, but nothing about it felt like a finale.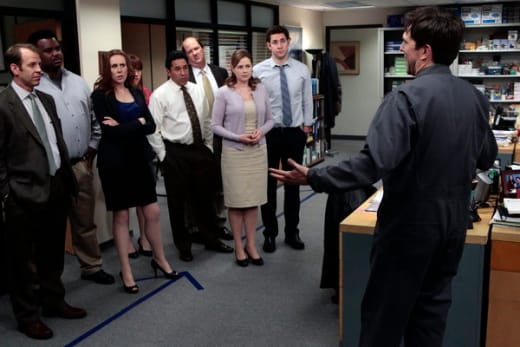 Was that supposed to be a send off for Robert California? I know he was only here for one full season, but it sure felt abrupt. He's getting paid by David to travel the world with hot gymnasts? It's strange.
When it comes to Andy Bernard, I have had more quarrels with the character lately than can be imagined, but I was enjoying what B.J. Novak for Ed Helms to start the episode. The fake, down-on-his-luck, drunken janitor bit was kind of working for him.
From using strange accents, to switching in and out of being drunk, and culminating in nobody believing his story about David Wallace buying Dunder Mifflin, his storyline was finally working well. That all ended when he went back to the annoying Andy Bernard that made everything about him.
Every time he interrupted David when the new owner was trying to explain the situation, I just wanted to slap him upside the head. I don't know why I was so interested in how the deal actually went down, but it was definitely more intriguing than Andy attempting to make a deal about him going from M-O-P to M-V-P, or whatever other garbage he was spitting.
Meanwhile, Dwight was too busy attempting to get DNA from his baby to care what Andy was doing. The funniest moment from the plot had to be Dwight asking if the excess skin cells on the baby's cheek were bothering anyone, but it was the ending that may have the largest ramifications in the future.
I say "may" because the future is still so unsure, especially for Dwight and Rainn Wilson. If the actor does stick around for another season, I will be much more interested to see what happens between Oscar and the Senator than the fact that Dwight and Angela have hooked up again.
What did you all think of the season eight finale of The Office? Will you be sad to see Robert California gone? How was the season overall? Is there any saving the series at this point? Check out our The Office quotes page, and then sound off in the comments.
Dan Forcella is a TV Fanatic Staff Writer. Follow him on Twitter.