"Turf War," by playing up the dynamic duo of Dwight and Jim - while reducing Andy's role to cooking cherries jubilee and making one pitch to a client - gave The Office some promise heading into next week's season finale... and then what will be an interesting offseason for the NBC hit.
With rumblings of spin-offs and departures, The Office needed all the positivity it could get, if indeed everyone involved wants it to stay on the air. As the back half of this season has gone on, I haven't been so sure that I would even want this incarnation of the show to continue for another year.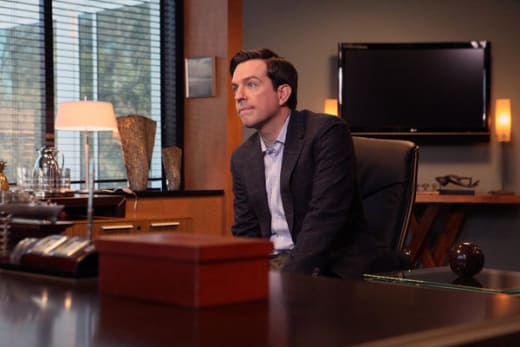 After a couple of unsurprisingly solid supporting performances by B.J. Novak and Brian Baumgartner, and then this week's improving half hour, The Office might be putting out just enough good moments to earn another season, which will then inevitably disappoint us yet again.
Even though I couldn't stand a second of time James Spader spent on screen, let's take a look at the funny and/or heartwarming moments that made "Turf Wars" one of the better Office outings as of late.
Jim and Dwight, and especially the latter, were terrific. Between the former's prank on the latter in the cold open, Dwight's disappointment in Jim for being too focused on clients to come up with zingers and everything Dwight did in the meeting with Harry, the perennial foes were just great as a team.
My favorite moment from the quick meeting in the conference room was when Dwight actually WAS thinking of things in the room to hit Harry with, which included the table leg as well as Jim's leg.
While Andy Bernard did have one moment I enjoyed this week - giving the client a key to his house - he still has continued to fail in filling the shoes of the departed Michael Scott. Unlike the many Michael comparisons the character's managing techniques received, Andy never resembled Michael to me... at all.
In the short stint that Nellie has been at the helm, she has taken on the Michael Scott Light role much more seamlessly. She has been funny at times, she's created a few awkward situations and this week she provided the most heartwarming moment. Her scene with Pam, in which Nellie was so happy to have made a friend, reminded me of so many Michael Scott moments of the past.
Repetition is not always a bad thing, especially when it reminds the audience of how good this show can be, both with comedy and with heart.
I'm not sure how The Office will end things next week, but for now, it is in a good spot moving forward. With Spader claiming that he's leaving, and hopefully more of a supporting role for Helms moving forward, The Office could be much improved next season. That is, unless Rainn Wilson jumps ship. Then The Office could be in even more trouble.
What did you all think of "Turf War?" Was it a step in the right direction?  Or is The Office doomed at this point? What was the funniest moment from the episode? Check out our The Office quotes page, and then sound off in the comments.
Dan Forcella is a TV Fanatic Staff Writer. Follow him on Twitter.